TittyCreampies
TittyCreampies Review
Overview
There is something amazingly submissive about a girl that lets you fuck her tits. It is a fact that any girl who allows this wants nothing but for you to feel as good as possible. A girl like this wants you to get what you need and is not afraid to give it to you. The vast majority of porn sites out there do not understand this, and the porn experience they offer does not feature the sort of titty fucking that you might be into. However, there is a porn site that you can turn to in your time of need, and this site is called TittyCreampies.
It is one of the sites that make up the popular Evil Angels porn network. The network is known for assembling hot and sexy girls that know how to use their huge boobs for maximum results. They are girls who use their boobs to do naughty things, which surely make you cum in your boxers many times before you even realize you have started doing so. You will be so turned on that you will wish you were part of the action you are watching.
Without a doubt, the site is going to change the way the porn world works and will do it with style. The girls that are in the videos offered on the site have been handpicked because of their tits, and in the clips, they manage to make guys come really hard using nothing but this endowment and talent that they have.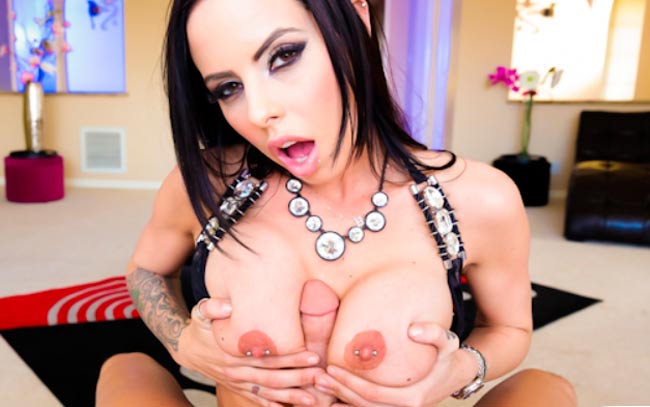 Design and Features
When you visit TittyCreampies, the first thing you notice is the layout. Hence, the type of layout a porn site has truly influenced the kind of experience you will get from it. TittyCreampies' layout looks great. Its color scheme features a combination of purple, pink, blue, gray, black and white, and these colors combine well to accentuate the site's content. Toggling between different areas of the site is quite easy as navigational and search function buttons have all been properly laid out and labeled.
The site has a collection of more than 50 full HD quality porn videos for your erotic enjoyment. All the videos feature the hottest and sexiest girls with the most fantastic boobs you have ever seen being boob fucked by huge hard cocks. You can watch the video clips online by streaming then onto an embedded flash player. You can also download them in M4V, MP4 or WMV file formats to watch offline. The videos are available in the highest resolution of 1920 x 1080 @ 5000 kbps.
The site also features an array of quality images which you can download to view them on any of your personal devices. There are about 45 image galleries for you to enjoy. Each of the galleries contains up to 100 images. The images are in hi-res but they cannot be downloaded in the ZIP file format. The availability of several file formats when downloading video clips from the site means you can download them onto any of your personal devices including mobile devices. This then enables you to go anywhere with your porn videos and watch them at any time which is convenient for you.
Girls and Videos
The first thing that you are going to notice about the girls in the videos offered on the site are their huge and sexy tits. The site has carefully chosen its porn stars to include only girls that have the best tits you are going to find anywhere in the porn world. This is in line with its primary theme of the sexiest tits taking creampies from the biggest cocks. The second thing that you will notice about the girls is their skill in using their tits to please guys. They are not amateurs at all, but they are professionals that will end up giving you a sexual experience that will leave you feeling completely and sexually satisfied.
For example, in one of the preview trailers on TittyCreampies, Sarah Jessie, a model who is gifted with one of the sexiest and most amazing tits you have ever seen, lets Kevin Moore boob fuck her to his satisfaction. The sound his thrusts and pumps were producing will make you think that he was fucking a real tight pussy. And her urges and loud moans of 'fuck me more', 'fuck me harder' served only to get him actually fuck her boobs harder. The harder he fucked them the more she asked for more. By the end of the trailer, he had shot his cum load onto her breasts and neck area three times. That is a wonderful performance from a girl who is using only her tits to please her man.
You too can undergo such wonderful experiences. You can get to experience firsthand what it feels like to get your hard cock in between fully rounded and perky breasts like those of Sarah. You can get to experience what it feels like to boob fuck such hot and sexy girls. Girls who keep asking for more as you give more. The only thing is that you need to sign up to the site before you can get to enjoy such amazing and wonderful sexual experiences.
Conclusion
With everything about this site being so perfect, you might end up thinking that it would be too expensive for you to subscribe to it. This is not the case, however. The site makes its amazing porn experience available to you at a very affordable rate, and if when you subscribe to this site you go for the long-term subscription packages you will be able to get a lot of discounts as well. You are also offered free access to more than 25 other top porn sites in their Evil Angels network when you sign up to just this one. With the quality of the site and the content it offers, this bonus is the icing on the cake.
or check some more about TittyCreampies on other good review sites!