PornDoePremium
PornDoePremium Review
Overview
PornDoePremium has been around for a while now. And since its launch in 2006, the site has dedicated its time to get some sexy European girls to satisfy virtually everything that you have always dreamed of, sexually speaking. Another very impressive attribute is the fact that there is a lot of genuine sex. Girls, mostly without condoms, get to fuck huge cocks in a bid to get the best orgasms.
They love playing with cum on their faces which in the end gives you that erection that you have been looking forward to. There are 26+ bonus sites that are associated with PornDoePremium. Some of these sites include DeutschlandReport, ChicasLocas, AGirlKnows and BitchesAbroad. A site like ChicasLocas is dedicated to giving you some of the hottest, naughtiest Latina girls who know all the tricks in the book when it comes to hardcore and messy sex. And the advantage here is that you will get a direct access to this site once your membership has been activated.
Apart from the site's superbly convenient design, you will most certainly have an easier time with the features that the site has in store for you. Some of these features include the following: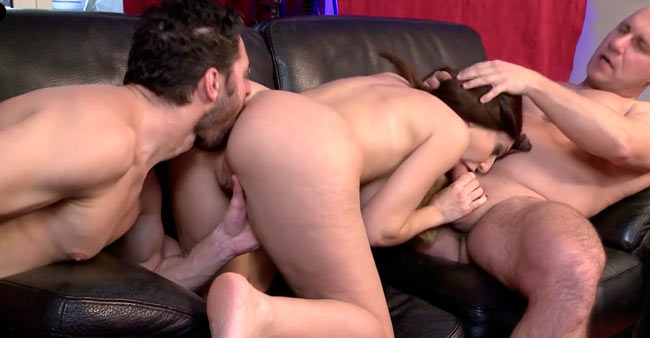 Design and Features
PornDoePremium has a simple structural design as well as color scheme. With one glance, you will already know all of the areas of the site including the home, pornstars, categories and the network. And speaking of the color scheme, the blacked out theme happens to bring that cool feel on the features which helps you relax while watching your favorite porn. 
With over 1,000+ scenes and 900+ hot, unique models, I can assure you nothing but the best erotic entertainment. There is also a blog that will make sure that every member is erotically enchanted as well as kept abreast on everything they need to know. The searching tool is also advanced and will always get you the videos, models, and photos that you want in a split of a second.
PornDoePremium also has got lots of bonus sites which automatically translate to lots of hot, erotic material. And that is where the searching tool comes in handy. The other thing that they use to make your searching easy is categorizing the videos. The four video categories include the new VIP releases, the new dark releases, new releases and the most popular videos.
Girls and Videos
Ranging from brunettes, blondes, redheads, big butts, nice round breasts and tattooed up girls, you will definitely land on the one that turns you on the most. And these girls aren't just about being cute. They also know how to not only pleasure themselves but also her audience. There is a wide range of ways in which these hot girls can arouse you. For instance, they will definitely strip tease for you while touching their breasts, butts and rubbing their exposed and wet pussies seductively. Anal sex is also very common on this site. And so if you love it, then there is no reason why you shouldn't proceed with watching it all as it unfolds.
Some of the girls that I would personally recommend include Vienna Reed, Katy Rose, Lulu Gunn and Blondie Fesser. These girls aren't just beautiful but they love fucking hardcore. And at the end of each scene, they make sure that they are satisfied and also get to play with their clits, pussies, boobs and the freshly ejaculated cum for your delight. And thankfully, there are plenty of girls for you to choose from. Most of the girls are slender and have extremely beautiful facial features.
You will witness the glorious creampies as they trickle all the way down from a pussy to an ass as the girls play with it. The runtime and the HD mark are situated on the bottom right side of the video. And on the bottom left side of the video has got the date of upload and the number of views. In one of the videos which happens to be my personal favorite, you will see a girl with tattoos and geeky glasses sucking a big, juicy cock. And she seems to be in love with the erotic and sensual blowjob if her facial expression is anything to go by. The girl is very good at it and you can tell from the groans of satisfaction that the man makes with each lick.
Conclusion
PornDoePremium offers the best quality videos. And in addition to how easy it is for you to navigate through the site, you can almost always have a blast every time you check out this site. There is a wide variety of hot girls that you can pick out and watch. Meaning that if you are into the sexy, curvy BBW, you will get a fair share of them to choose from. The same goes for the different categories that are available. If you want the threesomes where some naked, slender girls are sucking a big, throbbing cock while another cock is penetrating their tight pussy or asshole, then you are in the right place for sure.
According to what I experienced (and enjoyed the most), the sex on PornDoePremium is real. Of course, these girls are following a storyline but the shagging, sucking and cumming is too real and too sensual for your own good. And in addition to the site's simplicity, there are plenty of features that will make navigation something worth looking forward to. Bonus sites also add some juice when it comes to variety. And the good news is that you can access these bonus sites for free. So, the next time you are looking for some hardcore porn, I do recommend that you check out this site pronto!!
or check some more about PornDoePremium on other good review sites!