MonstersOfCock
Overview
Are you looking for some porn site that has surpassed the level of hardcore fucking standards? Is the thought of hot chicks being banged by giants cocks your type of porn? If so, head on to MonstersOfCock. From the name itself, you can easily envision what this has to offer. However, you'll have the surprise of your life once you see these huge cocks in action.
As they say, massive cocks are not very pleasure friendly but wait until you see how sexy chicks are craving to be fucked not only by one, they can take them at large! If you think that anything larger than eight inches cannot give maximum pleasure, then you are wrong. With proper training, huge cocks hammering tight little holes could be the game changer in the porn world. And the good thing is, you do not have to wait that long to see how the action unfolds.
With tons of videos featuring black and white giant cocks plus drop dead gorgeous porn actresses, MonstersOfCock can give you more than what you're looking for. So if you have a sexual hunger for some rough and wild sex, let MonstersOfCock tick that desire in your body to the fullest enjoyable ride!
Design and Features
MonstersOfCock offers a great deal to everyone. Currently, the site contains 600+ porn videos. You will notice that the shortest length of the videos is 25 minutes, with every second burning in wild passion. The majority, however, runs for 30-45 minutes. Each video comes with very hot and steamy images that can count as many as 300. They are all high-quality photos which are downloadable in zip format.
The variety of sexual contents is very impressive. There is an excellent playtime and playback option as well, and overall MonstersOfCock has a very good score among other porn sites. There is no room for low quality contents here. The photos come in 2000×1333 pixels and the videos all in full HD. MonstersOfCock has a very high standard when it comes to quality and format, that's why you are sure that everything you will watch and download here is all first class and exclusive.
Another lovable thing about this site is the optimization of tags you can use for fast and easy searching of contents. You also have the power to leave comments and reviews in case you want to. Also, as a part of BangBros network, once you sign up as a member of MonstersOfCock, you are also making yourself entitled to other sites being run by them. There are over 50 sites and you can access all of them and their entire collection completely free.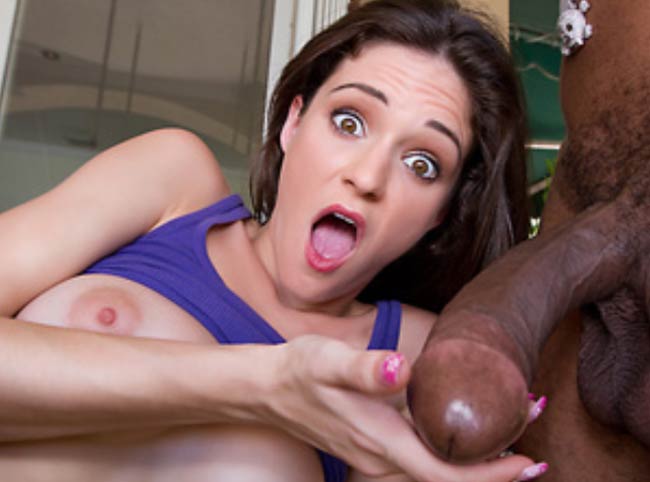 Girls and Videos
Featuring the hottest porn models of the generation, MonstersOfCock are very proud to show porn viewers how they can deal with oversized dicks, with nothing but pleasure. The biggest and blackest collection of cocks is here as well; ready to devour a waiting cunt at bay. You might wonder how those massive dicks can get into very tight holes but you have to see it to believe it. The hot chicks here seem to never get overwhelmed upon the appearances of giant dicks in the scene. In fact, they take them hungrily on their mouth with mischievous squints on their eyes and lips.
First, they would taste the size and length of the cocks in their mouth, taking their time to explore its thickness and in all its glory. Because the cocks are so big, you can see them sucking real hard to devour the cocks fully on their mouths. Then after the incredible blow job performances, they are more than eager to spread their legs wide open, ready than ever for a real hard and wild fuck! The horny black cocks goes in and out of pleasure holes like there's no tomorrow. The pounding scenes are only made wilder by loud moans and an O-face by the naughty models. The porn actors here are all in their prime and display perfect bodies along with expertise on satisfying all kinds of porn viewers.
Conclusion
A pulsing, throbbing giant cock wedged into pussies is the main thing here in MonstersOfCock. If you want to see them fucking a wet cunt and releasing the juices of their climax all over a hot chick's face, get yourself listed as a member of this site and start enjoying everything that's rough and wild!
Get your MonstersOfCock Discount
or check some more about MonstersOfCock on other good review sites!