Streamen
Streamen Review
Overview
Are you fantasizing to play a dirty and naughty game with some of the hottest male and gay performers in the world? Do you have liquid dreams at nights featuring long and fat cocks being played right in front of you? If the images of these men are giving you a lot of pleasure, then kick your fantasies to the fullest speed simply by visiting Streamen.
Streamen is a live cam site that welcomes you to the world of handsome men—mostly straight and very masculine. Their bodies are the epitome of a strong man which in your imagination performs the wildest sex ever. The only difference is, these performers can really do and show you what's inside that dirty mind of yours. Their powerful legs and the giant cocks in between would surely give you moments worth remembering. Streamen will make you scream in pleasure and the light from the beginning to the end of each show. Make sure to keep your eyes on long and hard cocks cum shots!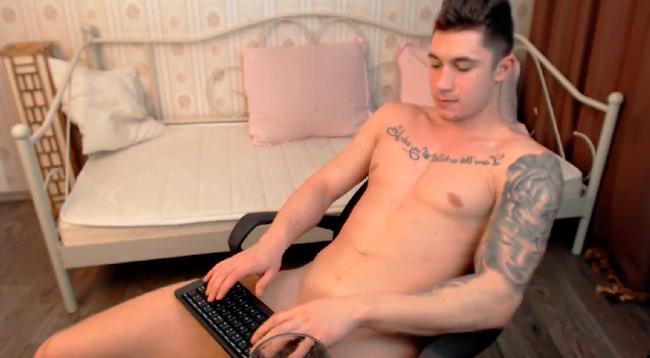 Design and Features
From the homepage, you can browse freely on the models' profile and brief information. If you need to narrow it down, you can use the search box options to filter the model according to your preference. It is normal to have your own requirements and Streamen is optimised enough to give you a perfect match based on your keywords.
You have all time in the world to explore the different pages of this live cam site as long as you have an account. You can make it in a just a blink and it comes for free. From here, you are free to choose the man of your dreams. In order to interact with your chosen model via chat, you just have to click on their pictures. If you are so lucky, you can spot some studs pleasuring themselves not for a show. You can watch the genuine masturbation as it happens. The free chat room here is far different from the others as the male entertainers have the dirtiest and naughtiest mind for miles around.
If you want to go premiere, you have to purchase tokens for the gold show. This is where the much anticipated sexual performances can be enjoyed. You will be amazed at the high-quality cams and chat services. Once you sign up for an account, you will be given a chance to send hot messages and requests to your desired performer. You can view your messages in real time as they pop up on the screen. The replies of the male models are all of their own accord. There is no such thing as default replies. You can feel the genuine interaction between the performers and that's more than enough to keep you sexually engaged for a long time.
Boys and Videos
With thousands of registered male models to choose from, it is not surprising that Streamen is well populated by porn fans all over the world—mostly gays. No matter what time you log onto this site, there is always a hot man waiting for you inside. These studs are patiently waiting for you to give you a cock show that will rock your world.
If you like to watch with other porn fans out there and enjoy a masturbation feast, you can join the group show. Here, a hot performer will be shown on his bed, fully naked with his sexy ass flooding your screen. You can ask for oil, the way he stroke his long cock and the angle of the camera can be adjusted. Watch how the screen is being filled by sexy requests coming from the different users. I assure you, it's very entertaining, reading dirty words and waiting if the male model would agree or not. This part of the show is very interesting. It's kind of thrilling to know that there are so many people out there just like you that are craving to see a motherload of cum explosion from a giant cock.
Conclusion
You will easily fall in love with the performers inside Streamen. The sexy hunks are always on the watch to keep you satisfied. Their husky voices and well-trimmed bodies are always ready to welcome you to the world of pure erotica. So don't let the male fun pass you by. Visit Streamen today and join the protein juice party!