NuruMassage
Overview
A Nuru massage is one where the masseur/masseuse and the client are coated in a slippery gel made from seaweed and then the masseur/masseuse rubs their whole naked body over and on the clients. In case you're wondering, it really is a bona fide Japanese massage technique that's hundreds of years old; however, as you can imagine, this leads to an almost inevitable sexual conclusion. That, in turn, leads to a website like NuruMassage where the inevitable sexual conclusion begins right up front in the massage stage. There's less attention on massaging his shoulders, for instance, and more on massaging his prick and balls. If massage is your thing, or even you and your loved one's thing, then this is a site you will want to be part of because their intent is to give everyone involved a happy ending. NuruMassage is part of a network called FantasyMassage, which has six sites at present. Its sites include, 'Soapy Massage' where the emphasis is on soap suds instead of Nuru gel to make the bodies slippery, 'Massage Parlor' for the kind of massage you don't get at your local physiotherapist, 'Tricky Spa' where the theme is hidden cameras recording naughty goings-on in a spa, 'All Girl Massage', which is the network's look into Lesbian massage and sex, and 'Milking Table' where girls 'milk' their clients' cocks both on top of the massage table and also, in a 'gloryhole' kind of way, from underneath the table. The network features multiple weekly movie and photo updates all in fast streaming 1080p video, and also unlimited downloads, of their HD movies and their thousands of zipped high resolution photosets. To go along with their concern for everyone having a happy ending, they also have a Community Forum where you can discuss lifestyles with other members and the site's stars, and also live webcam shows for more ideas and interaction.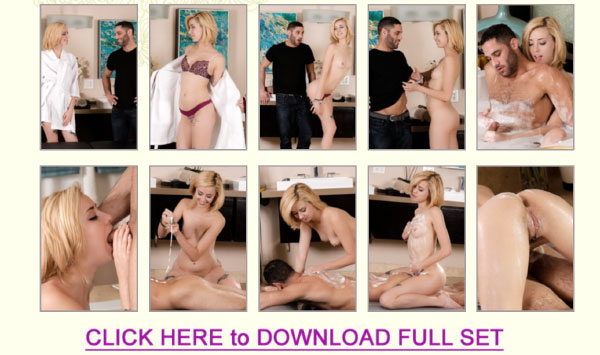 Design & Features
NuruMassage is designed for searching. They've provided a wealth of ways to get at your favorite girls or scenes. The header starts with links for Member Login and also Submit A Fantasy, where members can suggest a scene they'd like to see played out and filmed, and it also includes links to Videos, Pictures, Pornstars, and Bonus Sites. The Home page's body is made up of images from their Latest Movies, Upcoming Movies, Pornstars, Latest Photos, while the footer includes Site Map, Categories, and Network links to speed you on your way to erotica heaven. Selecting the Videos, Pictures and Pornstars links give pages with similar sections to the Home Page, while the Bonus Sites has pictures from, and links to, the other sites in the network. You need all that searching power because NuruMassage has more than 1000 videos, including over 250 erotic Nuru massage scenes, all in razor-sharp 1080p HD, and thousands of images and photosets that can be fast streamed to both your PC and mobile devices While there are a number of massage sites on the web, NuruMassage is unique, not only in real life but also on the web, which means they have a niche all to themselves and also means their movies and images are as exclusive as they can be. That uniqueness and exclusivity, as well as the quality of their material make them a site I'd recommend to anyone who loves erotic massage. As well, in keeping with their 'happy ending' ambience, once you're a member there are no distractions to your pleasure, no pop-ups, requests for more money, or advertising of any kind. It's a safe, relaxing ambiance for a safe, relaxing, yet raunchily exciting, activity.
Girls & Videos
The site's models are pornstars who appear on many sites but appear to best advantage on this one, I think. Some of the more famous girls, to me anyhow, are Madelyn Monroe, Dillion Harper, and Jillian Janson. Of the girls who love to work with NuruMassage and have appeared in many of their videos are Asa Akira and Jackie Lin, two beautiful Asian girls whose lithe golden bodies seem to have been formed especially for Nuru massaging, perhaps that's why it was invented in the East all those years ago. One of the site's principal search features is Categories and they include Body Sliding, which is the Nuru massage activity itself, Jacuzzi for those who have fantasized about sex in warm water, Blowjob Sex Scenes for almost everyone who loves sex, Shower Massage Sex proving sex isn't always 'dirty', 69 Massage when you want to reward your masseur/masseuse with a massage of their own, Hardcore for more edgy massaging, and Kissing Massage for some more rewards to the hardworking masseur/masseuse. Other 'categories' are covered off by the sister sites where you find such genres as Lesbian sex with one or multiple couples or partners, threesomes of both varieties, and spontaneous scenes between masseuse and surprise clients, like the landlord, for example. Among the site's latest videos are, 'Rub Us Both' where a vacationing couple ask their masseuse to relax both of them, which she only too happy to do. Another current movie is 'Birthday Massage' where a man gets a surprise massage for his birthday that's both relaxing and stimulating. A final example of the Nurumassage content might be 'Better Than Hubby' where the masseuse, though initially coy, finds her client a better lover than her husband. All these feature well oiled hot bodies rubbing together, becoming aroused, and finally coming together.
Visit Nurumassage