LederhosenGangbang
LederhosenGangbang Review
Overview
If you ask any adult video connoisseur what is the best type of porn they've seen, they always seem to have a preference when it comes to European women, especially those sexy Germans. There's just something about the combination of beer, voluptuous shaped women and the outdoors that seem to oddly satisfies men and women around the globe while leaving our bratwursts hard. LederhosenGangbang specialises in porn with men and women of German origins.
LederhosenGangbang – the name sounds a little hilarious and it's pretty quirky, but this website is serious about when it comes to pleasing both the performers and the members. When it comes to quality porn standards with European countries, LederhosenGangbang has set the bar so high, other adult video viewing websites are having such a hard time, and they can barely get a breather to catch up with the quality being produced by LederhosenGangbang on a weekly basis.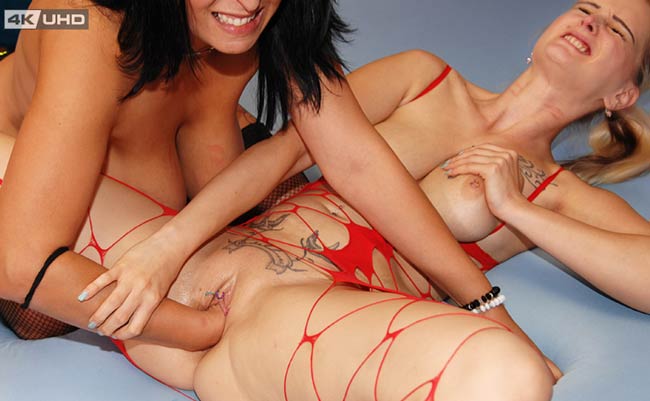 Design and Features
There are three main features that separate LederhosenGangbang from other websites. Their videos are of high quality, the content written is unique, and the ability to download the videos. On top of the fact that they have the most amusing and wackiest type of porn. It all beings on the front page of their website. Guests are allowed to view what LederhosenGangbang has to offer, but only registered members are allowed to view, rate and download their uploaded content. The front page entices guests with the various plays and scenes they have available, followed by high quality still images of the newest video uploaded. They then advertise the video's quality via ratings as well as the duration of each video.
Before you view any video, guests are prompted to log in. If you do not own any membership for LederhosenGangbang, signing up is simple, easy and fast. Once guests have logged in, they may continue to "All Movies" or "Lederhosen Movies" and view these videos in full high definition. The videos are shot in Ultra High Definition or 4k video, which is available to download directly to your devices like computers, laptops, mobile phone or tablets for all registered members. The content written may be unique, but that's what the rating system is for. Member who has seen the video can notify the other member the quality of the video by rating them individually. Eight random videos taken from the front page have been selected and tested if the video quality rating is good. After quickly adding and divining, and the average rating per video is 95%. A rather impressive statistic for an adult video website that is barely a year old.
As a bonus for becoming a registered member, LederhosenGangbang awards each registered member with what is called a "Goldwin Pass". A Goldwin Pass is basically your access to websites connected and owned by LederhosenGangbang, wich also contains other types of porn, which may or may not include German woman gathered for a gang bang. Being a Goldwin Pass holder means you can view and download exclusive content from other websites as well. These passes will stay in your possession as long as your membership is active.
Girls and Videos
Lederhosens are traditional German pants for men, created from animal leather and made to look like overalls or dungarees. Gangbang or Gang Bang is a type of sexual act done with at least four participants. How it works is one person, is to service, pleasure and be fucked by the three other participants. The typical set up for this type of sexual act is one woman to three men or commonly two women with three men. With those terms in mind, it's rather a scene to behold while this goes on a mountain, or anywhere in the wide open outdoors.
LederhosenGangbang is all about those showing those German women a good time whilst wearing a Lederhosen and having the great mountains as their backdrop. The women featured in the videos are quite adventurous. Adventurous not only in a "going for a hike outdoors" kind, but they aren't afraid to push their personal boundaries. Whether its piercings, tattoos, coloured hair, sex toy play or even other women, they aren't afraid to explore to reach a higher and more pleasurable climax. These women aren't afraid to drop their clothes in front of other women and men, get down on their knees and pleasure them. In fact, the main selling point of this website is how these women are incredibly open to partaking in sexual intercourse, regardless of age and gender.
In fact, the majority of the videos begin as two women are partially undressed, kissing, groping waists, touching breasts, and stimulating their female partner's genitals with either spit or their own love juice from masturbating, dripping from their wet vaginas. They will do anything and everything just to make the men cum and drink up all the jizz as their just rewards. The female models may appear to be amateurs, but their performance is comparable of those in the professional porn industry. There is also a Model Catalog page, where you can peruse a particular model's other videos she starred in as well as links to her co-stars, hot links to her other videos, a basic bio, and updates if she a has a video coming up.
Conclusion
After reading all that information, we should review the benefits of becoming a member of LederhosenGangbang. If you want a playlist of videos for your personal pleasure time, the member can opt of downloading the quality content directly onto your computer, laptop, mobile phone or tablet.
If you want to view the model's other videos and her cute co-stars, a Model catalogue is readily available. With that said, the benefits of being a member definitely outweighs its cost for membership and believe me when I say it's worth every penny.