Hot Mature Trisha
Overview
Hot Mature Trisha is the website of a British milf and freelance pornstar, Trisha. She is a horny mature lady with an insatiable appetite for sex. She is more a cougar than a milf. She lives in a village near London. She is an amateur porn actress and model. She also acts as a part-time slut and is an all round dirty whore. This website is concerned basically with the hot milf granny content. All the stuff on this website is related to the milfs and really bulky grannies. Those who fantasize fucking the next door granny and want to explore their each and every hole, have a really nice option to try and satisfy themselves. The website submits 100% original content exclusively performed by Trisha. The quality of the videos is worth mentioning as all her photographs and videos are in full HD. Trisha finds out well-hung guys and also persuade some of her clients to perform on camera. Some of her videos are so intense that it is really hard to accept that she is of more than fifty years of age. You get exclusive access to Trisha's all pictures and videos by subscribing her website. All her sessions are shot in full HD and there are no quality concerns. There are always a group of pornstars performing and are ready to attend to the members' demands. The members also have the option of text chat as well as phone chat; all of those are uncensored and you get a whole lot of other facilities on this website. There are also some of the recorded chats and confessions available for the users. They also get an option to listen to the recorded phone sex stories by mature women. Her website also gives you access to some other such websites which deal with mature porn. She has a set of another website too which come gratis with the membership of this page. All these websites have mature and relatively disfigured wanna be pornstars who started in the adult industry after their time was over. Her website has won the prestigious UKAP Awards in 2015 as the best GILF of the year. The website has been reviewed by some of the best reviewing websites in the business too. The update frequency of the website is quite a good ad they also have a whole variety of ammunition to entertain you and fulfill your fantasy.
Design and Features
The website has a simple but robust design. However, the language and content used are more in a chatting style than an eluding professional one. The website has a lot to offer and thus it has a series of tabs colorfully spread throughout the page. The website boasts of the award it won and displays it in the opening slideshow. It also displays the websites it has tied up with to give its members a full access to all their demands from hardcore porn to sex chats and live video feeds. The users also get an option of listening to the sex stories with seducing sounds and special effects. The videos and pictures on this website are in full HD and available for its members to download and enjoy. These videos come with a short description and the content of what is going to happen in the scene. The website mostly revolves around aged matures who are highly experienced. Even though they have bulky bodies and are more of a sort of grannies but your fantasy of watching a granny being used and beaten will be satisfied here. These next door grannies have no inhibitions whatsoever and they take their partners up in every hole they have. This niche is not so popular worldwide. But for some fresh guys who want to explore a mature hole and feel their mature pussies milking out every drop of cream from their shaft, this niche finds a place in their playlist.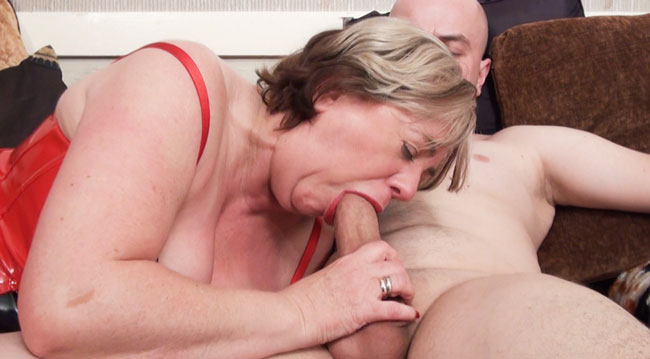 Girls and Videos
Trisha is an example of a perfect mature British woman who loves to fuck with anyone and everyone who comes her way. She is also an exhibitionist and does not shy away from even stripping in a farmland. She behaves in an animalistic manner once she gets hold of a guy who is fresher than her. Her body is nowhere to be proud of. She is rather bulky and has sagging boobs. But her nipples are quite protruding and grow erect every time she is horny. Her pink nipples and pierced clits are the best part of her body. Even though she does not have a pornstar like a figure, she has immense energy and makes her partner go crazy by her oral skills. She loves oral and likes it even more when splattered with cum all over her face. She is explicitly shameless and performs almost all types of sex on cam. A woman her age grows concerned about posing nude on cam leaves apart fucking on cam. She is one of the best women to get a blowjob from. When her mouth wraps the member and her tongue explores all the surfaces of the cock, it becomes really very tough to control oneself from spurting out the entire load in her mouth. She is ever ready to perform with you even in groups. To set up a session, you can directly mail her your offer and almost all her emails are replied within a day's time.
Conclusion
If you have ever fantasized what the next door granny would feel like around your cock and if you have ever imagined them giving you some of the best blowjobs and have made you cum hard, you should then spare no time in subscribing her. Do not forget to mail her and set up a session to really experience her mouth and pussy around your cock.
Get your Hot Mature Trisha Discount