HotAndMean
HotAndMean Review
Overview
Do you like lesbians? Look at who I'm asking, of course you like lesbians. Do you like to watch lesbians having sex with each other? Another rhetorical question right, of course you do. What about watching one lesbian put on a strap-on and fuck another until her pussy was swollen and wet? Yes again? Then you're going to love this famous pay porn site.
Hot and Mean is filled exclusively with videos of women, presumably lesbians, fucking each other. This website is set up exactly like the others in the Brazzers Network. At the top of the page is the toolbar. Up there are the buttons; Scenes, porn stars, Sites, Categories, and a search bar. Each opens a drop-down menu which each gives you more options pertaining to the headline you selected. The videos are set up in a list format, with a thumbnail preview picture of the video underneath the name. The site also lists the names of the stars in the video, right next to the picture. This is helpful because you don't have to click on the video and be brought to a different page to find out who is in the video.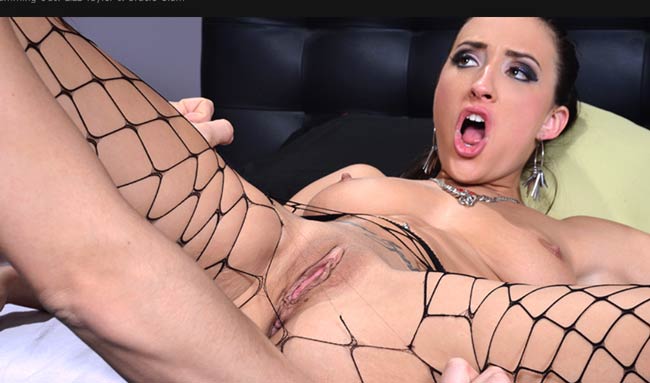 Design and Features
As of this writing, the site has 190 videos and lets you view three previews before asking you to become a member to view more. For those of you on the go, Hot and Mean is compatible with iPhone, android and tablets. That means that Hot and Mean never has to be farther away from you than your pocket or you computer-bag. On the bus, the train, your parents' house, anywhere you want, you can enjoy Hot and Mean 24 hours a day from almost any device. Just make sure no one else is watching, they have to get their own subscription.
Let's start with the smallest number I can think of, one. We start there because with just $1 you can get a two-day trial of Hot and Mean. But not just Hot and Mean, you get access to all Brazzers Network that includes adult websites like IlikeAsians, TeensLikeItBig and Asses in Public. If you like what you see, and I'm sure you will, there is a one month membership that is available for only $24.95. You get access to every Brazzers site, 29 in all, for that one low price. One month not enough? You can sign-up for a year-long subscription for only $89.95. For that price you can rest assured knowing that you can have access to over 1,300 porn stars that are ready to lick, suck, tickle and fuck, just for your enjoyment. Those 1,300 pornstars have come together to make a total of over 5,000 scenes. That's enough for a scene a day for the next thirteen and-a-half years. In addition to that, there are 5,200 plus bonus photo-sets also. That's not even mentioning the three daily updates.
Girls and Videos
With all that you'll always find something new on the Brazzers Network. Do you really want to join but you can't seem to come up with the cash? Brazzers has a solution for you too. They offer a unique service where they will allow you to trade in your popular gift-cards in exchange for membership. These transactions work off of a one-time payment and the length of the membership is based on the amount of the gift-card. Also, you never have to worry about your information getting in the hands of someone that you don't want to have it. Brazzers is a secure site and your information is only shared with Vendo, the company that processes all of the payments to Brazzers. So know that when you put your information into Brazzers, they are taking every step possible to make sure that your information stays yours.
Conclusion
There is. It would be remiss of me if I didn't tell you about the other sites in the Brazzers Network. Purchasing access to Hot and Mean gives you access to all of the other sites in the network as well. Another great site in the network is Asses in Public. The women on this site are far from shy. On this site they can be seen showing off the beautiful bodies in public, and often doing a bit more than just showing. These women find that when it comes to fucking, it's all about location, location, location. And the location where they like to fuck is outside, outside, outside.
Another niche website that is a part of the network is She's Gonna Squirt. You might want to wear a wet-suit and goggles when you're on this site. The floor, the couch, the walls, the camera, the guy, the whole set, all get a good soaking when these women reach their climax. Or maybe you're into D's, or Double D's, or maybe something even bigger than that, all playing sports. Well on Big Tits in Sports you'll see great boobs in jerseys and sports-bras, then in nothing at all, all doing what they have to do to win. When these girls need to relax after going for the gold, they make an appointment with the Dirty Masseur. On this site, the girls are oiled up then rubbed down before they get a fucking that they won't soon forget.
Some of our problems with authority is that they never strip down and fuck you to teach you a lesson for being such a bad boy. Well on Big Tits in Uniforms, they do. Not just cop uniforms, but French maids, military, lawyers, these women will dress up as anything as long as they get to get fucked in the end. Sorry but I have to go, I just left Brazzers to type this and I've been away for way too long.
or check some more about HotAndMean on other good review sites!