FILF
FILF Review
Overview
FILF is a top-rated and fine porn site featuring hardcore taboo sex scenes between members in a stepfamily. So, you will enjoy watching a stepdad fucking his nubile stepdaughter, or a horny stepmom seducing her stepson, with more scenes featuring stepbrothers and stepsisters engaging in crazy stepsibling sex. If you are wondering what FILF has got to do with stepfamily, then check this out. FILF is an acronym for "FamilyI'dLikeToFuck". The insane scenes on this amazing porn site show the crazy ways in which sex runs in a stepfamily, and how exciting and thrilling it would be to fuck a stepfather, stepsister, stepmother or stepbrother.
If this sounds thrilling, then it is time for you to check out the comprehensive review that we've provided for you below. This review will help you identify the kind of porn you will enjoy on FILF and how it will help you experience memorable jerk-off sessions. The review covers various aspects of the site, including its design and features, as well as the girls and videos. We will even seek to describe a video that will enhance this site's awesome reputation.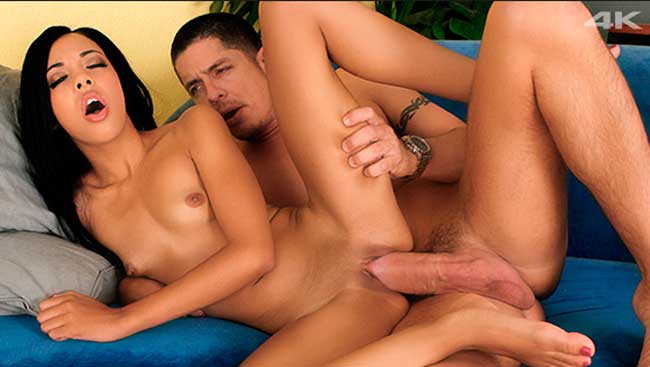 Design and Features
FILF has a very modern and chic design that will blow your mind away when you first access the site. The contemporary look and feel are accentuated with the use of a scrolling slideshow at the top, on the header. Above the slideshow, there are three links and the logo of FILF. The slideshow showcases handpicked top videos including Netchix and Fill, I Came All Over My Stepmom's Boobies, Fuck and Sniff, and another new video.
FILF is a very new porn site, having been launched only a few months ago. But within a short time, it has managed to put up a decent collection of porn videos for you. This awesome site offers no pictures, but only movies for your kinky minds. The videos show various themes that will surely drive you crazy. There's sex between a stepdad and stepdaughter, with her friend included for a super-threesome effect. You'll find stepsons fucking their stepmoms, stepsisters, and stepbrothers who also enjoy a great time fucking each other. And there are other scenes showing a stepmom teaching her stepdaughter the art of sex, and lesbianism.
Below the slideshow, there is a brief description of what FILF stands for, and why it will leave you in a positive state of mind after you watch these videos and jerk-off satisfactorily. The description provides you with what FILF is, what is stands for, why it is important and how to get the best out of it. Below the description, there is a grid of about 39 videos. You can enjoy 200+ videos, all at your disposal once you create your login id and password on FILF. The videos are updated daily, available in 4K ultra-HD resolution and compatible with mobile devices too.
Let's check out the grid of videos that are placed in the main body. This will give you an idea of how to navigate and use the site. As mentioned, there are 39 videos arranged in a grid, with three columns and about a dozen rows. Each video has a title, with the total run time, number of views and the percentage of likes. The themes and scenes shown in the thumbnails are unique and kinky, and you will be enticed to click on the thumbnail to explore more about it.
To view any video, you need to create a login id and password. And now comes a very surprising part of the site. Membership to FILF is free for a limited time. So, all you need is to provide your email id, create your password, and verify your age to gain access to FILF. 
Girls and Videos
Let's check out the girls that FILF boasts of. Even you are keen to know more about them because you want to watch these bitches get fucked hard. You have the urge to check out these sluts' pink cunts, watch their breasts being fondled and groped and nipples sucked, and asses invaded hard. What's more, you also have a dire need to watch these bitches suck cocks, which tends to bring out the best in your jerk-off sessions.
What makes the videos on FILF stand apart from the rest of the crowd are the natural performances that the bitches and horny hunks give you. The sluts don't hesitate to show how kinky they are and how much they would love to take a hard dick inside their horny cunts. They love to fantasize about monster cocks, and whether it is their step-dad's or step-brother's, they don't mind taking them into their tight pink cunts. The taboo associated with sex in the stepfamily goes through the roof, and the members of the stepfamilies take turns to fuck each other hard.
Check out this video, "I came all over my stepmom's boobies". Lily Lane is a horny MILF who has an amateur stepson. The stepson is all by himself, listening to his favourite songs, and watching pictures of naked sluts. Lily decides that she should help him out, and decides to teach him a lesson or two in the art of turning on a bitch and fuck her. And the body she decides to use is her own. She teases him with her sexy and sultry moves, showing off her exquisite breasts, and perky nipples. Her stepson can't take it, and soon, they end up having a crazy time, with the guy fucking his stepmom hard, till he gives her a titty creampie; something that she relishes immensely. 
Conclusion
Such awesome stuff, if given to you for free, can make your nights the most pleasurable of your entire life. Awesome themes, natural performances, amazing chicks and exquisite bodies that you will drool over are sure enough reasons for you to enjoy nights of pleasure and satisfaction. If this is the kind of pleasure you're seeking in life, it is time for you to subscribe to FILF without delay. So, join this free site now and never look back at anything else for all your jerk-off needs.
Visit FILF
or check some more about FILF on other good review sites!