FemdomAcademy
Overview
Once you find a site that is great, you cannot ignore it, and you also cannot just go and enjoy the crappy sites, since they are just that, crappy. Once that happens, you must continue using and visiting the better sites, just to get that pleasure that you had. FemdomAcademy is one such site, and it has everything that a hardcore fan could possibly want, hot girls, guys tied up with ropes or leather straps, and hours of kinky fun, waiting to be seen.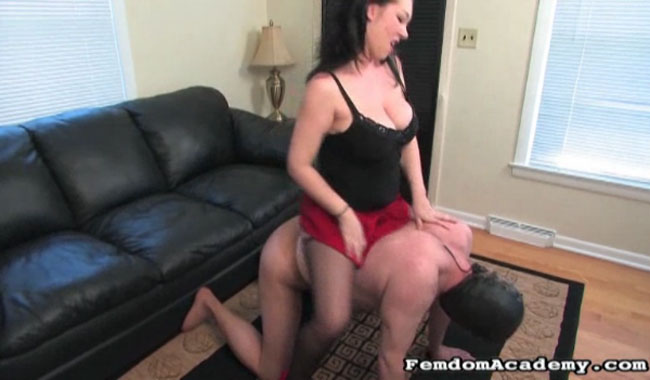 Design and Features
Not only does the site have so many great things to see and enjoy, it also has a lot more that you would by all standards adore. A good design can make a site much better than it would be, although this site is good enough on its own, without the design, which is just a big plus. The site has a very dark home page, in tune with the site's theme. The page is in black and dark red, with other colors being mainly in the previews. There is a giant collage at the top of the page, where you can see some of the action and some of the girls.
Below that, you can find the site's menu bar, and many other things like the trailer videos. They are playable, and if they are not enough, then you have many other photos, along with some captions, each of which describes what is to happen in the videos. The site also offers perks like sorting options and a search bar, to its members, of course. Joining is worth it, as you get to fully utilize the site's lack of lag. The pages load instantly, and so do the videos. The site also works great on all the mobile devices, showing off that good optimization.
Girls and Videos
Once you load the first video, you will see why this site has some of the hottest girls, and their knowledge about sex, too. They use straps, ropes, metal clamps and other creative devices to show the guys what real sex looks like. With their passion and the guys' willingness to participate, you get a combination that is unlike any other, where everyone seems to end up being more than just happy.
But, that is not all, as the videos are just yummy to watch, as their full HD resolution turns out to be quite a mouthful, of sperm, that is, as every detail is visible. You can enjoy that quality as the videos are updated frequently, and they are also lengthy, though it varies, from 10 to 45 minutes. There are also the photos, with 400 galleries each of which has around 80 photos, you have a lot to explore, and all of that is downloadable, too. You can have the videos in the MP4 and the WMV formats, while the photos are available in the ZIP format. The membership comes with the benefit of having the other 46 sites in the network to explore, and not only that, but you can also download all of those sites' videos.
Conclusion
If you find a site like this one, you should join it instantly and never let go of it, as there is unlikely another site similar to this one that you will be able to find. Hot girls, hot guys, ropes and leather, dildos and cumshots, whatever you want you can find within the pages of FemdomAcademy, or some of its sister sites, in the network.
"The has been closed, but you can also visit FETISHNETWORK"
or check some more about FemdomAcademy on other good review sites!