CzechVRFetish
CzechVRFetish Review
Overview
CzechVRFetish is an awesome MentalPass Network VR porn site that features premium HD fetish porn from the kinkiest Czech sluts. The network is quite popular for offering amazing content bonuses so you can trust that the site can keep you truly busy for a very long time. The site specifically features beauties from the Eastern nation getting down and dirty to give you some of the best mind blowing fetish performances you have ever seen. They give you stuff that ensures you get wet in the end.
If you are a lover of porn that features Czech gems, but you discover that normal hardcore scenes no longer get you up, then this site is the perfect pick that will surely give you the kick you desire. The amateurs featured on the site greatly turn you on as they initially seem a bit unsure of themselves before they finally get carried away when they are into the heat of the action. The exclusive video clips offered by the site cannot be seen anywhere else online.
The site features the complete spectrum of fetish categories from feet, to pantyhose to peeing and much more. The site is definitely the best when it comes to hot and horny Czech ladies showing their naughty and kinky sides. This is an in-depth review of the wonderful site. After reading through, you should be much more informed. You should be educated enough to make a knowledgeable decision concerning the features of the site and how they can truly benefit you.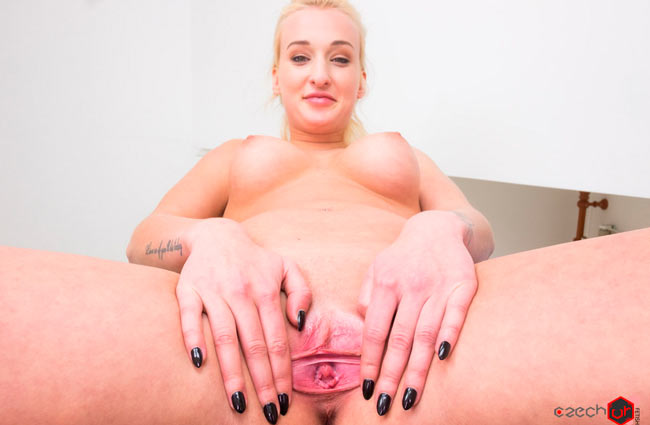 Design and Features
CzechVRFetish is truly a well-designed website with a great user-friendly interface. This makes browsing and finding preferences from the offered collection easy and devoid of any issues. As the site is a member of the great and popular MentalPass Network, you get access to hundreds of porn videos. CzechVRFetish possesses a library of 69 videos, while there are 286 in the CzechVR network, with 142 in CzechVR and 76 in the CzechVRCasting sites. Regular updates across all sites ensure that the library grows every week.
The video clips offered by the site are all VR enabled. They are HD, 180 degrees, with binaural sound and 60fps features to give you that feeling of being a part of the action. The feeling, which is made quite possibly by the VR technology, ensures that you get the best possible ejaculation experience. The average duration of the clips is about 30 minutes and there are over 70 now and counting. This is as the site has one of the best update regularity in the entire industry with fresh videos being added on a weekly basis. You actually view the clips from the performer's point of view as they are all filmed in POV style.
You can download the clips without limits to your computer at the highest resolution of 3840 x 2160 @ 15,000 kbps in full HD MP4 format. You can then transfer the clips to your mobile devices or even download them directly to the mobile device you will be using with your VR headset.
The colour scheme uses grey, white, black and red very effectively to create a very sexy look and feel. Red highlights and accentuates the critical aspects of the site, especially the Get Instant Access button and the names of the pornstars. Overall, from the color scheme of the site to its layout and functionality, the site has been exceptionally designed to give you the best possible user and the most exciting viewing experience. It is a site you will always love to come back to even if just because you know there will always be fresh content you can watch or download.
Girls and Videos
CzechVRFetish is a great VR porn site with a little twist from the creators of CzechVR. The site offers one of the greatest collection of fetish scenes and every kind of them too; urinating, feet, latex, fisting, lesbian strap-on sex, facesitting, ass-stretching etc. The hot horny models predominantly feature Czech bitches but also include French and Italian sluts who relish some kinky and naughty actions. They can do virtually anything to ensure that the front of your pants develops an obvious wet spot from pre-cum. The real VR experience which makes you feel the sluts are truly sitting on your face with you fisting the little, tight, hot and wet pussies is the best part of all the scenes. It can never get any better than that.
The sluts featured by the site are the hottest and sexiest you have ever seen. They come in so much variety that at least one option must fulfill your needs. There are blondes, MILFs, brunettes, dark haired and so on. The bitches are well endowed and they know it. They use their endowments to do anything and everything to ensure that you cum again and again. They sit on your face, let you fist their horny wet cunts, use their feet to perform magical wonders on your huge monster dong and so many other naughty sexual games. In short, they do so much to you that you will ejaculate into your pants without even realizing that you have done so.
The network is safe and secure so you have no privacy and safety issues at all. Your personal information is stored quite discreetly. Nevertheless, if you face any issues maybe with the VR, the site has an excellent customer support department you can contact directly from the site. They will help you in resolving any issues whatsoever.
Conclusion
CzechVRfetish should definitely be your only stop if you love exploring varying fetishes and experiencing the feeling of actually engaging in all the kinky naughty actions. If you love having a hot, horny and wet pussy sitting on your face, or you like fisting some hot model's ass, then get your VR headset ready and let this site give you the experience of awesome fetish porn clips filmed from the performer's point of view. Add tons of bonus content and hot Czech and European sluts at an affordable fee, and you get a deal that is quite impossible to refuse.
or check some more about CzechVRFetish on other good review sites!