CzechMassage
Overview
CzechMassage offers videos that are being recorded with hidden spy cameras. If you like this type of scenarios and girls that are being fucked on the table, you can go for this site. Although it is quite new, they have consistent updates and you will surely enjoy your time on it.
Design and Features
The design of the website was done to offer the user an understanding of what he is about to experience. Once you get on the home page you see a huge banner with screens from the actions and if you scroll down you will only discover more of that. The menu is really simple and has only three pages from where you can choose. The colors are mostly darker shades and this combines great with the overall atmosphere of mysterious because the girls don't know what is waiting.
The layout of the site is also nicely done and you will really enjoy the fact that you can navigate through the website and not get any kind of animation that might distract you or something else.
The website can be tried from a mobile device as well. I really enjoyed the fact that they made it available on devices because let's face it in today's world we all use our mobiles to browse the internet. I entered the website from my own mobile and I can say that the experience was pretty much the same. This is a good thing because most of the times site to change too much on different versions.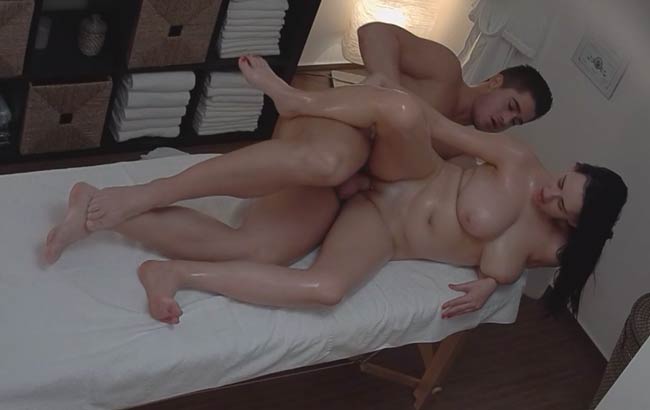 Girls and Videos
The girls take their place on a massage table. After that, they get oiled up and then the fucking starts. Big tits, nice legs you can choose from whatever body type you want, curvy girls are not missing as well. They might be amateur but when they start having fun you can't really figure out if they have done that before, they really know how to fuck. 
The videos are filmed with so-called spy cams. You do get high definition quality and the format of the videos is WMV. When it comes to the length of the scenes you should know that the average time is somewhere at around 15 minutes. The total number of the scenes is somewhere at 41 plus. Don't get worried about this aspect because they do update the website constantly and you will surely get access to more once you become a member. Image galleries are present but in a form of screens that are presented as a teaser. So if you like to join some images before going to the video you can do it with no problem.
Don't you want to enjoy free 26 other classy porn sites by being a member of CzechMassage? Be a member today by budgeting for membership fee at monthly basis or twice a year, so that you can not only see what takes place in massage rooms but also enjoy yourself too
Conclusion
CzechMassage offers a hot collection of hard core sex scenes that featured an interesting environment. If you like this type of action where the girls don't have a clue what they are up against and where the action starts fast, you can give it a try and see how it goes for you. I have no doubt that you will enjoy yourself here because all the actions are real!
Get your CzechMassage Discount
or check some more about CzechMassage on other good review sites!