BurningAngelVR
BurningAngelVR Review
Overview
Great virtual reality porn site, BurningAngelVR is one of the best sources of virtual porn reality movies on the Internet. Although there are plenty of VR sites that you can check out today, this community has gained its edge over the competitors by showing only the hottest and wildest chicks wearing tattoos. The hardcore actions are made even better by slight domination and delicious BDSM porn twist. Offered in virtual reality technology, you will never have to imagine so hard anymore!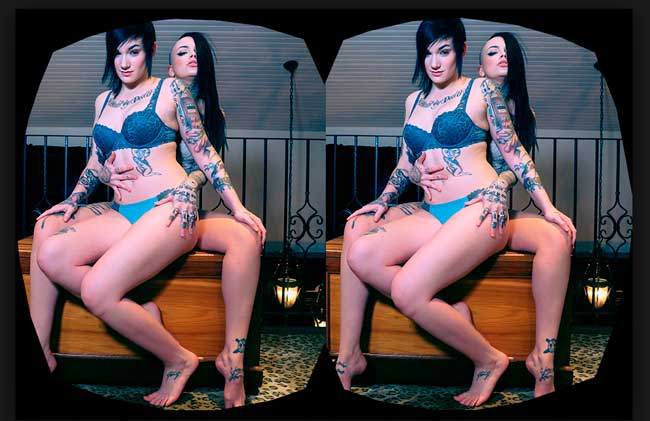 Design and Features
Do you love a minimalist site? I'm sure you would easily fall in love with the layout, color, and design. The professional ambiance can easily be felt and you would instantly know that you're browsing a user-friendly website. The welcome banner is a blast with two darlings looking so wild and naughty. Their beautiful faces and tattooed bodies would make you feel that everything inside is really hardcore at its best.
Compatible with Samsung Gear, Oculus Rift, and Google cardboard, the huge collection will surely be your best companion during your horny nights. The videos on the homepage are the newest to the collection. The screencaps let you see the different kinds of hardcore that you can expect to enjoy upon membership. You would love to see how the models here flaunt an incredible chemistry with each other, may it be a lesbian or a guy lover.
The videos are shown with titles, the name of the porn actresses and actors as well as the amazing summaries of the hardcore acts. As a site's guest, you are entitled to watch a free sample. All you have to do is to download the free teasers. Also, there's a quick button for viewing the gallery of pictures. The Ultra HD offerings are so great to look at. You can literally see each and every detail of the models' bodies as well as the impressive sex locations and background.
When you visit the video page, you would love the availability of a sorting tool and advanced search options. The keyword tags which you can use to land on your desired content at once are on full display, too. The technical aspects that you can expect from the virtual reality porn movies are shown as well. Even if you are not a technical expert and you don't know how virtual reality technology works, you can easily get accustomed to viewing the video by visiting the support and the device page.
The videos and the images can be streamed and downloaded. But to enjoy the collection to the fullest, make sure that you've got your VR gear with you. The videos show the wild darlings making out with literally anyone they want. When you are wearing your VR device, the darlings and the actors will seem so close that you'll feel you can almost reach them. BurningAngelVR definitely gives you everything you can wish for in hardcore virtual reality porn movies. 
Girls and Videos
If you're a fan of tattooed darlings or let's say the emo sweethearts, then BurningAngelsVR would surely get your needs covered! If you're getting bored of the usual porn sweethearts who love to be sweet on cameras, then you surely crave for someone who can make you feel the power and the roughness of hardcore videos. If you're a fan of tattooed chicks, you would never run out of hot contents to choose from. There are, however, models with no tattoos here. Nonetheless, they still possess the rough personalities that you crave for, making you feel intense and highly passionate.
You would also love the well elaborate sets, the great lighting, and impressive camera work. The models here are so naughty that they move so close to the cameras, urging you to kiss and touch their body. With your virtual reality device, you can easily imagine just that! The experience feels so natural you couldn't even ask for more! 
Conclusion
BurningAngelVR is an impressive interactive virtual reality porn site that focuses on hardcore porn images and videos. This collection has great models, storylines, technical team and everything is well taken care of to ensure that you will be satisfied like no other. The tattooed sweethearts with piercings would surely take you to the darker side and yet more delicious side of hardcore porn!
Site offline! Have a look at the best pov pay porn websites.
or check some more about BurningAngelVR on other good review sites!