Bromo
Overview
Bromo is a gay porn platform that brings you a host of star performers that have been groomed, trained and nurtured by the best. You are treated to professional hardcore content that shows you what you've been missing in the world of gay action. Dudes suck cocks close to the camera and make their mates groan with pleasure. Others take charge as they drill their rock-hard shafts deep into the assholes of the bottoms.
Design and Features
I liked the front office skills brought to Bromo. The home page invites you to an artistically decorated background. There is a clever mix of black and dark grey that not only provides the ideal contrast for the content but also strikes you with beauty and style. If you are looking for a perfectly tweaked gay porn site that throws a ton of user tools your way in a bid to make your experience blissful and memorable, Bromo is a good starting point to test the waters. There are many browsing tools available on Bromo but I will try to focus on the ones I used.
The home page invites you to a host of tagged images that show you a piece of the pie in the actual arena. You will be stirred to life with the variety of images spread on the home page and beyond. The list of categories allows you a quick glimpse and access to your refined porn options and preferences. There is a DVD section that features many videos in DVDs that can be downloaded and streamed. Users can check out the flicks my models or the latest updates. You are treated to a platform that offers a variety of instant access links so that you can choose to watch and stop at your convenience. I found it easy skipping scenes, and even switching from one movie to another, thanks to the many filters and advanced search tool.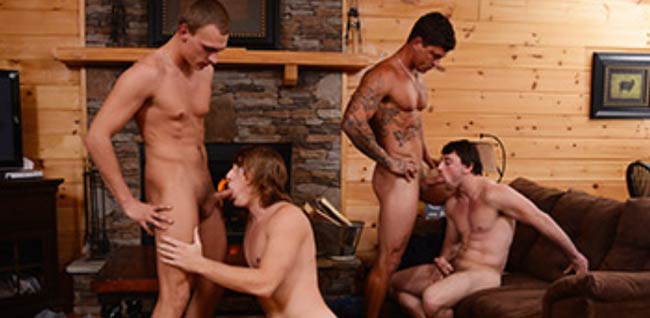 Boys and Videos
There are no girls on Bromo. It's about the pleasures of gay sex. You are provided with several segments to choose your videos and flicks from. There are scenes that capture dudes in group sex orgies in bukkake style. The dudes crave and seem to scramble to splash their jizz on the face of their friends. If there is something that you will not meet on Bromo, it is sex with condoms. All the sex sessions are in bareback. You are treated to highly charged sex sessions that feature horny dudes with a focus to get their cum inside the assholes of their mates.
The videos are captured with a professional touch. You are presented with hot sex scenes that show genitals as they are; close to the camera. I loved the style and demeanour of the dudes on the set. You are treated to hunks with tattoos etched all over their bodies. Others sport six pack muscles with a large puffy physique that gets anyone salivating for a feel of their hands and more.
There is more than enough to watch on Bromo. Check out full HD videos and high-res pics that come with the highest specs possible. There are over 10,615 videos that are split into sections. Catch up with SD videos, HD videos and Gayflix movies included in your plan.
Conclusion
Given the dynamic nature of Bromo, it is important to focus on what ticks you. We have seen that the platform has more than enough user access tools. You have the best videos and photos ever. The amount of content is more than you can exhaust in a lifetime. There is really no reason to ignore Bromo.