WaterBondage
Overview
Pay WaterBondage a visit and you will most likely say that it's nothing you've ever seen before. The scenes are water tight in bringing the fucking, shocking, submission and discipline levels to several bars higher than ever possible.
Design and Features
Through 250 and more sets of videos and photos combined, WaterBondage makes dripping wet pussies and assholes available for anyone's taking. There are so many episode playbacks to choose from. The quality is superb. The photos come in full high resolution while the motion pictures are in HD for most files. They are all available for download into zip files so you can bring the movies you want to jerk off with anywhere you may end up in or with. The video resolution reaches full HD capacity at 1280×720 wide screen. There is a member's forum wherein the discussion ranges from the safety of the positions and acts to the popularity of the porn stars involved. As there are plenty of available women in different BDSM plots, there are solos, with a partner and group actions too. The material is said to be more than enough to last a month of daily consumption. A woman working herself up to relieve the extraordinary horny episode in her body has been a common sight across many porn sites. WaterBondage is actively changing the common landscape by introducing water to the act. There is nothing like this combination that WaterBondage has a claim to being a niche site catering to this particular fetish. Water and discipline have become a category in the BDSM world, thanks to WaterBondage.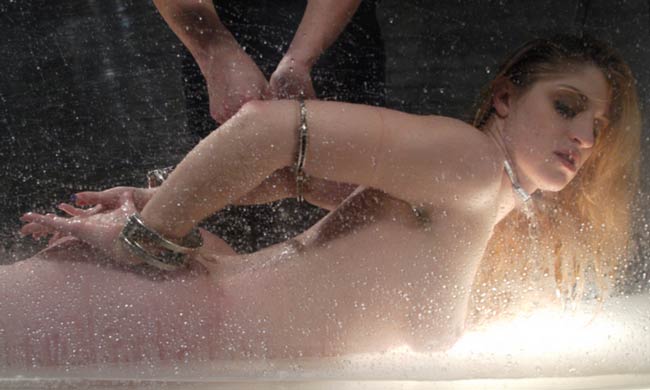 Girls and Videos
When the master feels that the woman has had enough she is bent over and water fucked relentlessly. The water becomes a machine furiously plowing the women into one glorified finish. The thrust is followed by jets of water until the woman cannot contain it anymore and make the scene one unforgettable fucking she will remember for a long time. Bound at her ankles and hands, the porn superstar is dangled briefly mid-air. Slowly she is lowered into the human size water tank. She is dropped and her heartbeat races a lot faster as her breathing becomes successive when she recovers from the dunking that is done to her. Each breath matters as she dives in and out of the pool of water. The mix of shock and submission comes with too much excitement while struggling. It becomes an adrenaline surge that she feels a different kind of sexual high. As soon as she is spread apart, the pussy is stimulated to a point where she gives into an outburst of sexual fluids while she is still embraced by the cold water in the human aquarium. The submerged orgasms come as a torrent of satisfied desire. Darling, for example, takes the lead in her return engagement of wet and tight submission act. The main element she takes to the core is the swirl of shock and satisfaction into one submissive situation. Her body begins in a wet and dripping manner as it is bound and she struggles mid-air in balancing herself on one leg. She is splashed with water until she is fully soaked and her tits create drips of collected sexual moisture and sweat. She struggles to maintain herself and she finds water being streamed on her too much while a vibrator is being introduced into her vagina. Her extremities are tied well and she is spread eagled. Her neck is restricted as well by attaching a bucket heavily filled with water. This weighs her neck with great pressure as the rope around her neck gets tightened. As she is being hosed she splashes and squirms. The shortening of breath becomes present along with the clear liquid on the face and on her clit. She reaches a point where her face registers the orgasmic heaven while pins are exerting effort on her skin. She was underwater when she is finger fucked until she reaches her summit point. At one point, Darling was hogtied and immersed into the water. Her duration is evident as she is dunked in several occasions. Ariel X finds herself bound tightly and roped in very hard. She has an athletic built that is laid on the fence fully zipped up. The water provides her the necessary stimulation through her aquatic environment. The nipples are held and fastened by suction cups. She is flogged until her breathing becomes heavy. A vibrator is initiated into her to make her come. No later than she has reached orgasm that her pussy is showered by a hose until she has fully cooled down for comfort. In another episode for a three-way orgy, there are Phoenix Marie, Lea Lexis, and Chanel Preston. The three sluts create a trio of power dynamics with Lea submissive to the other two's wet and slithering favors. As Lea becomes dutiful against the ropes she is struggling with, Chanel and Phoenix use props and canes to pressure Lea more and more. Phoenix and Chanel are all dressed up in pantyhoses and had their asses licked and worshiped. The session is ripping Lea apart but the rewards were too good to be true. As the water now attends to their bodies one by one and then together, nothing was spared. The pussies, boobs, and cherry holes were given the stimulation it asked for. They were all so dirty minded that even the heavy water that was used wasn't enough to get them all cleaned up.
Conclusion
Once you are beyond the initial shock and overwhelming catching of breath, WaterBondage will be the porn site, unlike the rest. It is initially too much for starters but once you get the hang of it, your expectations will be exceeded with all the efforts of water and shock pushing what you usually see from other porn producers. It is a big water world for sex and discipline out there with WaterBondage. Visit WaterBondage