UltraCuckolds
UltraCuckolds Review
Overview
In the real world, anytime a woman dominates her man, there is always something to be said about it. She comes across as hardcore, arrogant and disrespectful. However, in the adult world, anything goes. Unfortunately, not all men can be dominated and if this is the case, the women have to take matters into their own hands and take a different route when it comes to teaching their husbands what they want. The women we are going to review today are cuckolds. They do not go behind their husband's backs and cheat on them because they have wieners that could hardly penetrate them. Instead, they do it right in front of their faces. Wait for it….with big black cocks!
Through UltraCuckolds, you will be able to experience sex in a whole new dimension. The women believe that the big black cocks are the answer to their prayers and they get fucked accordingly while their husbands watch and later on lick their 'lovers' cum. Unforgettable sexual experiences as guaranteed and as such, if you are a man you should be taking mental notes to ensure that your woman does not creep on you. Labeled the perfect lovers, the black men on UltraCuckolds paves the way to the hottest sexual encounters that you have ever been a part of.
If this is what marriage is all about, we should be tying the knot frequently because the satisfaction that will derive from the flicks on this platform is well worth it. There aren't many cuckold sites on the virtual porn world thus when we get to be part of one that is as amazing as this one, we cannot help but treasure all of the moments of well-deserved fulfillment here. If you have been searching for a site that will meet you at your point of desire exceptionally, well then you will find satisfaction here. UltraCuckolds has been brought to you by the KickAssNetwork. Being one of the most reputable portals in the adult world, you can never go wrong with the kind of entertainment that you get here.
For the first time, the husband's feelings do not matter because the wife is in control. While this may be unacceptable in some parts of the world, on UltraCuckolds, anything goes. If you love interracial action, you will get a new home on this site. The action is far from one dimensional and this is exactly what makes this adult platform differ from all the rest.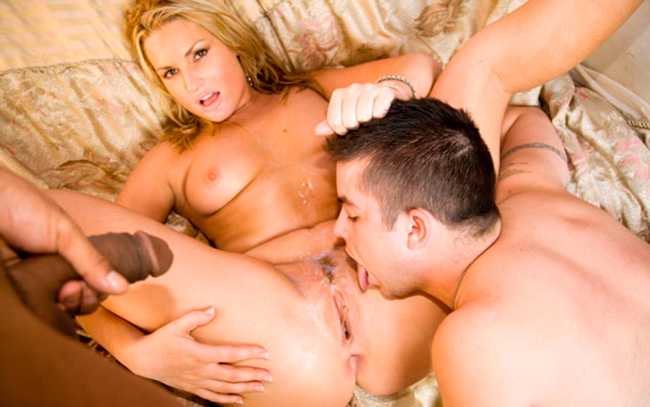 Design and Features
UltraCuckolds comprises of 72 full movies and 242 pictures sets. For a site that has been in existence for five years, this is a pretty good track record. All of the flicks are about 30 minutes in length and as such, you can count on great entertainment for a decent amount of time. Downloads are quite a delight, especially because, regardless of the quality that you choose for them, you will be delighted with the good quality through and through. The platform is known for MP4-ready files, however, downloads can also be in the window media files format.
Porn lovers on the go can also make the most of their iPod by enjoying UltraCuckolds. If you are not 'a download kind of person', then streaming the files will be the best bet for you. You can always stream them using a flash player and as such, you will be able to count on decent viewing moments. Apart from the movies, the galleries are also up for some exploration. Most of the images are made of a naked shop of the variety of models on this platform. The pictures on the galleries can be downloaded in zip files.
Girls and Videos
You will not be disappointed by what you see on the platform. This because there is plentiful of booty and boobs to a blinding extent. The models who pose as wives love big, black cocks and are not shy to open their pussies wide for the human cocks to penetrate them. These is no doubt that you will have endless moments of cum. It does not matter if they are going out of their way to suck cocks or even turning around and putting up their assholes for fulfillment.
You will beat the edge of your seat from start to finish. The models are a mix of porn stars who we have watched and enjoyed all through the years. They also represent a mix of ethnicities such as Asian, European, British, Czech and many others. The kind of show that they put on for you is truly undeniable.
The 'wives' get kinky inside the household, most especially in the living rooms. Maybe this is because they have disrespected their husbands too much that they would not want to take things further to their matrimonial bed, pun intended. The icing on the cake is when they demand their husbands to eat cum from their lovers. They are not embarrassed to do things that you would otherwise consider taboo and this is simply the beauty of the action on UltraCuckolds, you simply can never ever go wrong!
Conclusion
UltraCuckolds is an adult fetish site that makes entertainment a priority for you. The site is decent in the number of scenes and also offers enticing galleries. It is safe to say that this very adult site is all about all-around fulfillment. The exclusivity of the content here makes securing membership truly worthwhile. The site remains focused on the cuckold fantasy theme and this is a great depiction of professionalism. Navigation is also a breeze and you will not experience any challenges on the adult portal. If there have been cuckold sites on that have failed you before, UltraCuckolds will not disappoint.