TSJamieFrench
TSJamieFrench Review
Overview
Shemales, we see them a lot in real and reel life, they are everywhere in the adult entertainment industry even, but what makes them so famous and desirable to people that the audience even searches for them and watch their videos? Surprisingly most of the audience who watches their videos are straight males and females, it is because these shemales come from both worlds and they can do whatever it is that you would want to see them do, either having sex with a woman, a man or another transsexual.
Since there is a hype for shemales in the adult entertainment industry, a transsexual named Jamie French launched her own adult entertainment site.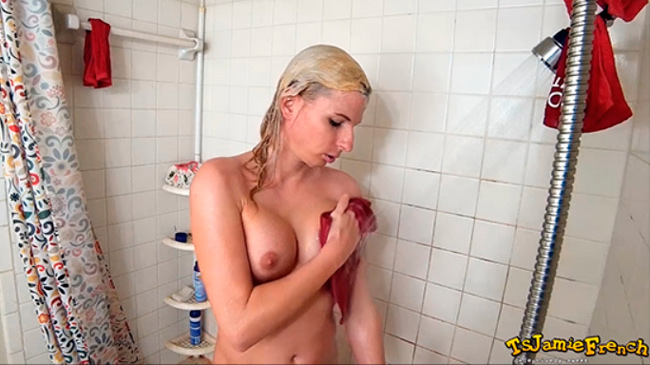 Design and Features
Once you open the site, you will be greeted by a mixture of pink and light blue background. The perfect mix of these colours along with some transparent heart drawings in the middle part gives off a female and exciting feel. At the top middle part of the page, you will see a full body shot of Jamie French, who is wearing a very sexy blue bikini and high heels. This site is very easy to navigate as all the buttons and links are already laid down for you on the home page, at the upper right side of the page you will see three links, there is a link for Jamie French's blog, so you can read her updates; next to it is a button for free stuff, so you can watch some of her videos if you haven't subscribed yet and the last one is a join site button that will give you instructions on how to become a member.
Just below her full body picture, you will see three buttons, the free tour button wherein you can go through the site for free and see some of her videos, the join now button and the members button wherein you can see the other members of the site, chat with them and check the announcements for the members of the site. At the left side of the page you will see Jamie French's short self-introduction, she mentioned about her physical traits and her likes and dislikes, and just below it, you will see her tweets and her exchange of messages with her fans on Twitter. A link to her Twitter account is also provided, so you can follow her and send her a tweet. You will also see a series of her videos wherein the dates and the title are available.
Once you become a member of the site you will have access to all of her high-resolution pictures and high definition videos, all of which are downloadable and transferable, all of the contents on the site are updated weekly. If you have any questions or inquiries then you can contact their customer support representative, the link is at the bottom most part of the page and they are ready to help you 24/7.
Girls and Videos
Jamie French is one of the most well-known transsexual stars in the adult entertainment industry; she is a beautiful blonde tranny with massive tits and massive cock. She admitted in her short self-introduction that she has a foot fetish and she is into hardcore sex. In her site she uploads videos of her having sex with men, women and other trannies, most of them are also known adult entertainment stars. This gorgeous model is so devoted to giving what her fans want that she personally takes control of her Twitter account, so that she could read the requests of her fans, in one of her videos that she posted she revealed that a fan of hers wanted to see her taking a shower and jerking off too, she did the performance and uploaded it immediately afterwards.
She is willing and open in having sex with different genders. In one of her videos it showed her having sex with a female, she used her massive cock in pleasuring the female model while having her massive tits sucked by her, she uploads sex scenes with other tranny models and they are into anal, blowjob, handjob and sex toys. Jamie French is so diverse in what she does, not only does she upload adult entertainment videos, but she also uploads songs and drawings that she did. She also has a link to her personal blog, so you could read her thoughts and activities, she updates it as frequently as she updates her Twitter account. When it comes to her videos, all of them are in high definition and can be converted into different formats depending on what you want, you can download them or stream them online, you can also transfer them into any device.
Conclusion
Although the most famous categories in adult entertainment sites involve opposite-sex partners, the categories wherein trannies are involved are now catching up. That means more and more people are into watching them having sex with males, females, and other transsexual models. If you search for the best and most famous shemale, one of the names that will come up is that of Jamie French, she has been in the industry for years and she has never failed to deliver amazing performances and she updates her site TsJamieFrench weekly as promised.
Since she is into hardcore sex, you will be able to watch sex scenes that you probably have never seen before, she has a love for sex toys, so you will see more of that, she also loves having anal sex and getting her cock sucked. If you haven't seen any shemale adult entertainment videos and you are thinking of giving it a try, TsJamieFrench is a good start for you, it has all the scenes that made most of the audiences hooked and surely, once you watch them, you will get hooked too.
or check some more about TSJamieFrench on other good review sites!