Tranny
Tranny Review
Overview
Tranny is a network that is hands-down the best that the world of the tranny and shemale splendor has to offer. As porn lovers, we already know that no two adult sites are the same and this one brings with it the kind of great experience that will spice your sex life in the very best of ways. If we could, we would give Tranny as a site a badge of honors because it is one of those pleasure portals that are worth your hard-earned money. You will not be disappointed by what Tranny has in store for you.
Established in February 2006, tranny has proven that hardcore tranny networks still have something to offer. The majority of the action is fast and hard, proving that you will have the time of your life here. Brought to you by the PimpRollNetwork, you will not be able to get enough of what lies in the pages of this network. Decent in size, Tranny will be your one stop shop for all things of pleasure.
Of course, just as the network's name suggests, you will find anything and everything tranny here. The pleasure portal does not deviate from the kind of content that it is supposed to offer. The large archive that comprises of over a thousand scenes lets you know that you are in good entertainment hands. Home to 13 exclusive websites, the simple network with a simple promise will ensure that your viewing moments will never be the same again. The models are wild and unrepentantly deviant. 
If you are not a tranny sex lover, then prepare to be transformed because the amount of pegging, gangbangs and real-life Trans hookers that can be found here are enough to ensure that you always have something to look forward to.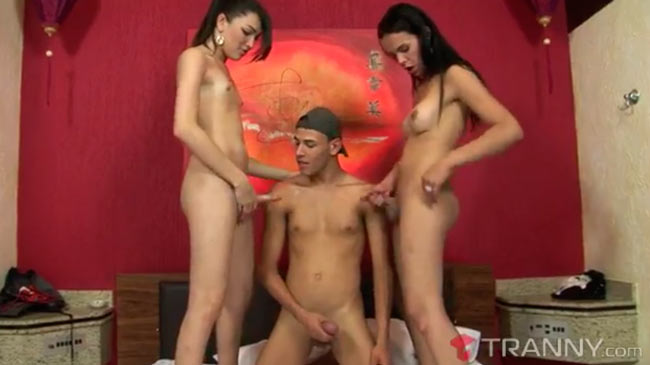 Design and Features
Boasting of content from 13 sites, Tranny surely is the kind of network that you want to be a part of. Needless to say, taking a tour here is something that many of us only dream of. As most of the sites that are found here hold 30+ scenes each, you will be impressed with the kind of entertainment that is waiting for you. When it comes to updates, the site is definitely growing faster than you can say 'Tranny!' As soon as you log in, you get the generous amount of content that is waiting for you to explore. There are lots of exclusive images, videos and DVD releases that will excite you in ways more than one.
The videos are well-tagged. They come with a short description and some other details such as the models/pornstars names, the star rating that has been awarded to the flicks by the members and catchy title. Downloads are available in low or high quality, and regardless of the formats that you choose you will still be able to enjoy the action in crystal clear clarity.
The video viewing is great, and there are no complaints as far as this is concerned. Clicking through the scenes, you will enjoy the great and quality and decent runtimes. In regards to the photo galleries, they are filled with high-resolution images that able to make the most of the favorite's area.
Tranny houses a few non-exclusive scenes in its DVD box. Even these DVD scenes are well tagged with a decent list of actors, high-quality pictures, write ups and upload dates. Tranny is simply a site with a great attention to detail. The network is big but it ensures that it caters to all of your needs accordingly. Exploring the site is something you ought to do.
Girls and Videos
We have already established the fact that Tranny is made up of a diverse number of sites. Therefore, the model roster will also offer a variety. It does not matter if you want to catch a glimpse of Tranny sandwiches, cum filled trannies, those who enjoy gangbangs and even hookers on alert! There is no doubt that you are in for a real treat. If you were not told that these are trannies then you would think that they are truly all-women. They are beautiful and conduct themselves in a way that will have you begging for more.
The cum filled trannies are truly shameless. They do not care whether they enjoy cum in their assholes, faces, mouths or all over their boobs. Their satisfaction lies in making their partners cum. On the other hand, the fresh faces are excited to be debuting their skills in front of the cameras. You will love the naughtiness that they bring your way.
There are also trannies who embrace the roles of housewives who are excited to take on cock as well as pussies. They fuck and suck as if their lives depend on the pleasure that fucked, the tranny models spit out all types of profanity. They're having the time of their lives. Their cocks are definitely tempting. I must say that you will want to suck them or maybe insert them deep inside your pussy. There are also kinkier trannies to put up their assholes to be pleasured and as such, you will delight in every great moment.
Conclusion
Tranny is the kind of network that truly makes a statement for all of the right reasons. There is a lot of excitement going around, leaving you with the urge for more. When it comes to the flicks, Tranny offers the best of viewing moments. A large number of scenes promises you an entertainment archive like no other. Do not be afraid to turn your tranny on! The scenes may be dialog heavy but this does not take away from the pleasure that you will get here. Therefore, you should be ready to explore and find out exactly what this portal has in store for you.