TheUpperFloor
Overview
Have you grown tired of the same old porn that you get to see on all the sites, the stuff that became so repetitive that you probably wished at a certain moment that you never got into porn? Yeah, I heard of many cases like that, myself belonging to the category. Luckily, there are people out there, still left with some creativity and some decisiveness to make a really hardcore stuff, where you see what kind of kinky things people like to do, and it is called TheUpperFloor.
Design and Features
With a name like, that, symbolically representing something similar to the upper class, you would expect them to have a great design, and you wouldn't be wrong, not in the least. The site is furnished in the color red, very representative of the content. The background is actually a wallpaper, which quite fits the overall design of the site. On the top of the page is a banner with some of the ladies and the guys of the site, kinky people, indeed, and below, laced with the shades of dark red, like the rest of the page, are the previews of the videos on the site, mostly of the archived ones. The previews are unplayable, but, they are numerous enough for you to get an idea of what the site's content is about, an exact idea. Once you join, you do get the complete access, to all the dirty secrets that this site has, and it has a lot of them. With all the content being sorted in a very user fashion, you can find everything you want in a second or so, and that is also thanks to the good optimization, which solves every possible waiting problem, even on the mobile devices.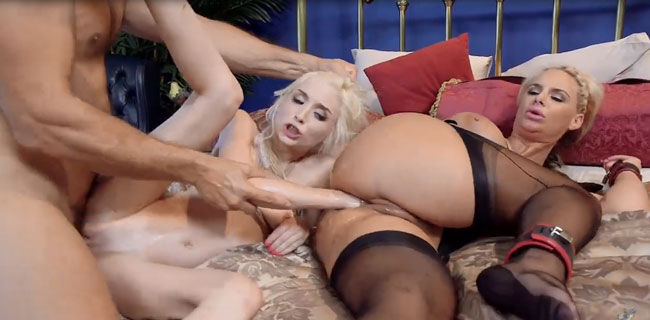 Girls and Videos
With so much technical details to back up this site, you can wonder what is there to find here, and you would be surprised at how hardcore can some people get and what their fetishes might be. The site's sections are divided into categories, so whatever your taste might be, whether that is for the one on one action between a man and a woman, or gangbangs, where one woman gets to satisfy 5 or more hungry dicks, it is entirely left to your preference, as there are many categories to choose from. If you like gay dudes, then you will definitely take pleasure in that section, where guys use ropes, leather, clothespins and other devices to bring each other the most intense kind of pleasure, the one that you came to see. With orgies with many girls, and girls fucking guys with strap-ons, there is everything here, and best of all, you get to watch it live. Yes, there are live shows, and what makes them better, is that they are stored in the archives, so that you can view them later, if you happen to miss them. If it is live, you know that it is real, and not acted out, like it happens on so many sites. Most of all, you can download the videos, the highlights, for your pleasure.
Conclusion
This site is for those who wish to have top of the line experience, the pleasure beyond anything else that you might see on the Internet. The most hardcore site I have ever stumbled upon on, and it is great to be their member, so go visit TheUpperFloor and see for yourself.
Get your TheUpperFloor Discount