TeamSkeet
TeamSkeet Porn Review
Overview
It's time to review one of the most interesting pay porn networks we have in the industry today – Team Skeet. This is a top porn network that contains 24 different porn sites like Family Strokes or Teen Curves, with an all you can have full access to all of them if you decide to buy a Team Skeet Pass. All of this adult sites are 100% exclusive and the most popular are Dyked, Innocent High and She's New. Here you can find some of the most amazing girls, all of them are about 20 years old, so if they are your favorites, this is the right place for you. Some of the most famous porn stars started their careers from some scenes that you can find here. Team Skeet is well designed, it's really easy to navigate and it's always a pleasure to explore something that is so well designed. This porn network offers new update each day, which is very important for long-term members. If you run into some problem or have any question, there customer service is available 24/7. For network fans, Team Skeet can be followed on Twitter and Instagram.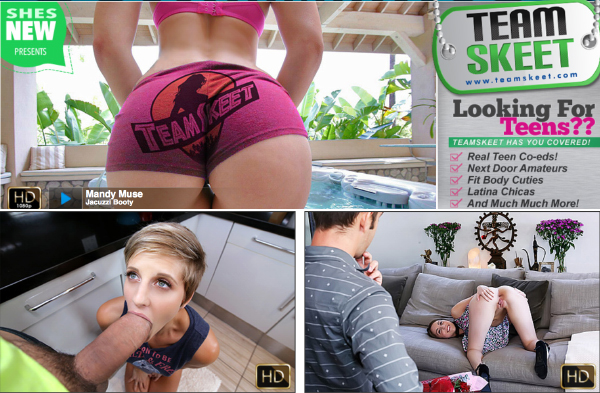 TeamSkeet Memberships
By joining this network you will have an opportunity to enjoy in more than 10 benefits that Team Skeet network is offering. We are talking about 7 updates every week, unlimited downloads, over 1000 porn stars, HQ picture sets and plenty more. In terms of what they are offering, Team Skeet is one of the best porn networks we have today. And the most interesting thing here is that members can suggest them their own fantasies. Not something we used to see from porn networks but it's very good to have this option. You can join here by using your credit card (Visa or MasterCard) or credit check, but also you can join by sending SMS or by calling them from your land-line phone. Speaking about membership, you have one limited and several unlimited options to choose from.
2-day trial for $1.00. This option will give you limited access to entire network. It should just help you to get a small taste of team skeet. It is very good price for 2-day pass.
1-month full membership for $9.87. This option will give you access to all of the benefits stated above and it's the most popular porn membership on this network.
12-months membership for $4.99 per month (billed in one payment of $95.87). Option that gives you 73% savings compared to regular monthly price.
Pros
I had mentioned earlier that you can find more than 1000 girls that are between 18 and 21 years old. But what surprised me the most is that here you can find some of the earliest scenes from today's most famous porn stars, while they were still unknown. I have to mention Madison Ivy, Tanner Mayes, Riley Reed and Capri Cavanni (on this porn network you can find her by searching for Capri Cavalli) – all these girls have their videos on Team Skeet. All models have very good arranged bios and it's really worth to check out all of them. Videos are all filmed in 1080p HD, which is one of the most important thing in the industry today. They can also be viewed in low, medium or high-resolution. Average length of videos is 30 minutes, which gives you more than 750 hours of quality porn. Size of HD videos varies between 750 MB and 3 GB, depending on duration. Team Skeet network is consisted of 24 different sites, that are all 100% exclusive. Total number of scenes is 1600+, so you can understand why only 4 sites have more than 100 updates.  This is not a problem, since we are talking about one of the newest networks. Each scene also offers a free porn movie trailer. What is also very impressive is number of sharing options, videos have option to be shared on more that 300 different websites. Videos can be downloaded in multiple format but they can also be viewed online using Flash. All photos are HQ, and they can be downloaded as file zip pack. (size of zip file varies between 15 MB and 50 MB.)
Cons
There are no such things here that can make you decide not to join this network. I can mention only several things that comes to my mind. First is lower quality of older videos, there is not 1080p in these videos, no multiple download formats available. And second thing is small number of uploads for some sites (Teen Pies, Teen Curves and Her Freshman year have less than 20 uploads each) so we can just hope that the number of scenes will increase on every site. That's all I can say about negative sides of this network.
Conclusion
Pay attention to this network, you will probably have the chance to see some future celebrity porn stars. Based on everything I have said about this network you can realize that it worthy of joining. Website design, quality of entire content, divided in many different sites, and all of the girls that are here, should be enough for you to enjoy this network. If you are interested in watching first scenes of world famous porn stars, you won't be able to find many better networks this one.
My Overall score for Team Skeet is 9.5 out of 10; Pretty amazing score for a network that was launched in 2010.
Visit TeamSkeet