SinsLife
SinsLife Review
Overview
SinsLife is exactly what it sounds like. You get to peek into the lives of two hot porn stars that decided that they wanted to get married to each other and spend the rest of their lives together. They also decided to make a reality porn show of their lives as they swim through all the love, sex and all the orgies that they have together. This is unlike anything that you have ever seen before. They not only let you into their sex lives, but they even share their life with you. They take you everywhere with them, from Las Vegas to Hawaii. You can see that they share a special bond between them and they really can get nasty and adventurous too. Read on to see how they give you a slice of reality like you have never seen before.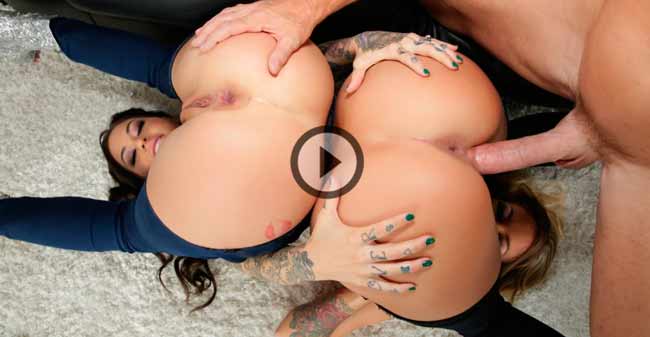 Design and Features
The design of this website is very fresh and vibrant. It is like a breath of fresh sea air. And why is that do you ask? Well, if you look at the background of this website you will find that you have been transported to one of those beach decks where there is nothing but the sand, the sea and beautiful women around you. And of course, you are wearing colored sunglasses and lying on your back enjoying the view. That's exactly what they want you to experience when you enter their website and they have done an unfathomable job at making their vision come true. So, the background has palm trees on it and the main colors used for the tour pages are sea foam green and white. All the different pages of the website have different colored filters with the same backdrop.
This website is not only brilliantly designed, but since they have so much to offer to you, they are very organized as well. They have one video, which you can watch for free. On the main page, they have even categorized everything that they do, so that you can choose to see what you want to. They have different categories like exclusive content, snapchats, solos, reality porn, POV lap dances etc. you no longer have to keep browsing to find what you want. They really have made the interface really user-friendly. 
Girls and Videos
Johnny Sins and Kissa Sins, the porn star couple, make sure that they make their website completely different from all the websites that are out there. All their content is completely unique, where they star in all their videos. There is a lot for everyone. They sometimes masturbate solo and even engage in filthy groupies. They make sure that all their videos have something new and interesting. They not only let you into their sex lives, but they also let you in their private lives where they live and what they do. They go to various places and exotic locations and make your sex experience with them unlike anything that you have ever experienced before. Recently they went vacationing to Mexico, and shot kinky videos there, at the beach and in their rooms. They even got some friends over, and mixed it up. It is like reality television, but it better, it is like porn reality shows. Sometimes they even set up live cameras so that you can watch them going at it like bunnies and you can be sure that all of it is real and none of it is faked in any way. You can even tell its not scripted. That is something special about Johnny and Kissa, that you can tell that there is a spark in between them. Even though the sex gets hardcore and nasty you can tell that they are in love and that it's a part of that lovemaking. Who doesn't enjoy porn, which brings you the best of both worlds?
Kissa is an absolute hottie who knows how to use her delectable ass to her full advantage. She is a blonde, with the perkiest tits that you have ever laid your eyes on. And the best part is that she is bisexual and thoroughly so. She loves to have three ways with just women while Johnny watches and tells them what to do as he touches himself. He loves sharing her lady with other women and he sometimes even gets in on the action. Saying that Johnny is well endowed would be an absolute understatement; he has a huge cock that would satisfy anyone's appetite. And he has the body of a Greek God that is so hard and perfect. And to add to all the fun they get a lot of famous hotties in the mix to kink up their sex lives.
You will be thrilled to know that all the videos on this website are all top-notch quality, with brilliant sound. There are over 150 videos that you can either download or stream. All the videos that are downloaded are in either mp4 format. You can also stream these videos on the flash player that is embedded on the website. There are erotic stories that you can read; they also have pictures attached to these stories. There is even a sex shop where you can purchase the kinky replicas of toys that they have used in their videos and more. They also have a sins merchandise shop where you can get SinsLife t-shirts which look very cool. They have photo sets too, which can be downloaded as zip files.
Conclusion
SinsLife really manages to capture the essence of the lives that Johnny Sins and Kissa Sins lead. They leave nothing to your imagination with all their crazy sex scenes, live cameras and more. Everything that they have pulled off on this website is different and they even let you in on their snap-chat stories, where you can follow their every move. They even talk about fitness and give you tips on how to stay fit. They really have left no part of their lives blocked. I don't think there is absolutely any reason why you wouldn't want to subscribe to this website.
or check some more about SinsLife on other good review sites!