SeducedByACougar
SeducedByACougar Review
Overview
Seduced by a Cougar is a top porn pay site and is part of Naughty America, one of the biggest porn film production company famous for reality porn. So what is Seduced by a Cougar really about? Well the title explains it all, this website is all about horny mature women and Milfs, preying on fresh meat. They won't stop their hunt until they're satisfied and lucky for you it's all on camera. They are not your typical Milfs, they are all fit and super sexy, they're flexible and not too old. All the porn videos can be streamed in 4K which is Ultra HD. They offer previews of the videos even if you're not a registered member, so you can get taste of what you will be signing up for.
The sites features the hottest pornstars on the market, there are literally 100+ well known stars advertised on the page under the "Our pornstars" tab. There is a lot of choices when its comes to the searching option. You can browse through categories or select by Category >>> Who >>> Where. Videos and pictures are updated DAILY!!!! So you can imagine the collection they offer, as of right now they have about 10000+ videos and pictures. Seduced by a cougar is also now available on Roku, meaning access to 3000+ videos you can stream on your tv for no additional charge if you have a membership.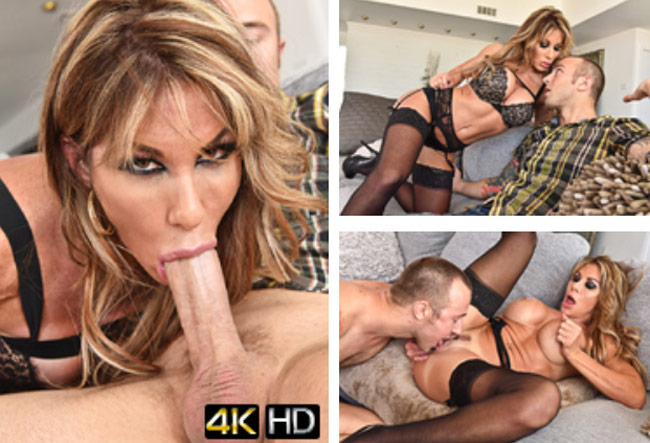 Design and Features
Being a member of Seduced by a cougar gives you unlimited access to videos and pictures but you will also have access to 39 other porn sites such as IHaveaWife, AssMasterpiece, LesbianGirlOnGirl, TonightsGirlfriend and so on… They are all advertised on the site under "All 39 sites" tab. Those sites are "sister sites" they are all part of the Naughty America group. All the videos are in HD or 4K (Super HD) which is amazing. You are able to download videos and pictures for no additional charge,if you have a monthly/yearly membership, and if you have a Roku player you can also stream it from there. The site is easy to browse through, everything is clear and neatly organized, no advertisements cluttering the page like most sites out there.
Girls and Videos
Seduced by a Cougar is definitely a must see/try especially if you're a Milfs/Mature women lover. Imagine 1000+ videos and pictures of horny milfs and well known pornstars getting down and dirty for the camera. Plus you get daily updates, access to 39 sister sites, and all this in HD quality. The search option is endless, they have a little bit of everything for all tastes and kinks. Also, you can't beat the price, even tho there are a lot of free porn sites out there not all of them offers super quality HD and access to a 10000+ collection of videos and pictures. Seduced by a Cougar is the best place for Mature sex videos. They're not your usual Milfs, they are hot and ready for some action.
Conclusion
They are offering alternative payment methods:
Pay by check – Includes Access to 39 Porn Sites, Unlimited downloads & FREE Mobile Access
Pay by phone – Includes Access to 39 Porn Sites, Unlimited downloads & FREE Mobile Access
As I stated earlier, Seduced by a cougar is a pay site so you are required to purchase a membership to access its content. Here is a list of the different rates they are currently offering:
3 day trial offers access to 39 porn sites – $1.95 porn trial
Monthly membership $24.95
Year membership $5.95/month
or check some more about SeducedByACougar on other good review sites!