ScandalOnStage
ScandalOnStage Review
Overview
Spying people who are engaging into sexual pleasures are sometimes a major turn on. Maybe not for everyone but to some, this can already turn them hot and horny. Aside from watching people having sex or going intimate with each other, there are also some people who find pleasure by looking at sexual objects, naked bodies, and genital organs. All these are symptoms of voyeurism.
Scandal on Stage, a site which uses the element of voyeurism to attract members and audience, was launched in November 2011. They are like a sexy circus whose main attraction is an act that will surely surprise everyone in the crowd. Acts like these are not the types you perform in closed hotel ballroom halls but instead, they prefer large spaces that can accommodate lots of people. This site is owned by Global Content Services Ltd. It is also part of the Crazy Fetish Pass and ExtremeMoviePass. With that there a couple of great websites that are included in the membership. The following are: Mountain Fuck Fest, Slippery Massage, Crazy Pee Girls, Big Macky, ExtremeAmateurMovies, Flexi Dolls, Scandi Porn, Deep Throat TV, Amateur18, Smoking Bunnies, Fuck on Street and a lot more. As you can see there's a large list of network sites that you can also visit from here. For example, one of the top picks is Mountain Fuck Fest where the models go to the mountains for an all-out orgy.
There's already a considerable collection of contents in this site but the following mentioned sites are all great options if you want more. Don't worry, the membership fee is only cheap. There's the monthly membership and the Quarterly membership. Moreover, this site belongs to the Public Nudity, Specialty and Porn Videos niche. These hardcore sex videos on stage are 100% exclusive from Scandals on Stage.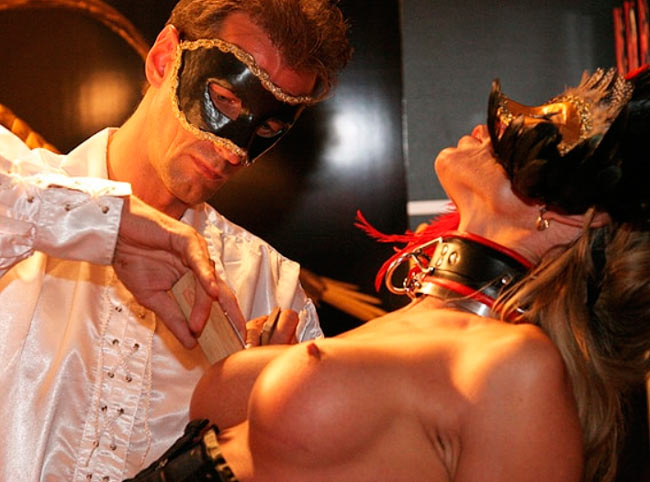 Design and Features
Upon landing on the site, you'll already be greeted with the latest updates. In this way, you're sure that you are always up to date of the hottest sexual acts in the Scandals on Stage porn site. The site updates on a weekly basis, so be sure to check once a week for new videos and screen captures.
The site design is also well thought of. It has the black, purple and yellow color-scheme. The navigation of the site is on fleek. The buttons are functional and it helps you navigate the site conveniently. It does not take you a lot of time learning which button leads to which part of the site. For the main menu section, there are four tabs in the menu of the site: Home, Pictures, Movies and Favorites.
When it comes to the organization of their contents, the site allows its videos to be sorted in different ways. Also, members can rate and favorite some videos. The favorite ones are automatically saved in the favorites section of the member's profile for easy tracking. The videos are also labeled according to the place where the sexual act was performed in one of their live shows. Aside from that, you can also get more information of the video through the comments section, tags, starring, and rate. You can also select from different streaming options. There are no update logs but the contents are dated on this site. 
The videos can be streamed or downloaded. Videos are usually 24 minutes long. The streamed videos have a resolution of 720×516. The downloaded videos are usually 1280×720 with a bitrate of 5000k. The downloaded videos are usually in two file formats. One is the Windows Media file format while the other one is the MP4 format. There are a total of 225 videos on the site right now and for the following weeks, it could still grow more. For the photos, the site does not allow zip downloads. There are already 112 photo sets on the site and each of them has 90 pictures inside. Overall, there are 1799+ bonus galleries, live feed feature, and personals offered in the site. The site also has an advanced search feature. 
Girls and Videos
The models featured on this site are all Europeans. These beautiful European girls are mixed. Some are white while there are some who are black. But all of them are definitely professional models or porn stars. These girls are also exposed to traveling and live shows since this is where they took their videos from. Unfortunately, there's no model's index in the site so you can't get to know these models any further.
The videos are all high definition videos. The videos or acts feature the following categories: striptease, toy play, girl play, guy play, girl to girl, CPNM, and oral sex. In the videos, you'll see that some ladies are performing solo by masturbating or pleasing themselves. Some other girls enjoy giving the pleasure to dirty old men or women. Lastly, some acts require some audience participation too! What an exciting experience could it be?
Conclusion
Scandal on Stage is a unique adult entertainment website that brings porn to a different level. This is for those people who have not been to any of their live shows and wishes to watch any of their acts. But don't you worry, they upload the best quality so it would feel like you were also in the scene with the live audience. It sucks that you can't get to volunteer in any of the acts featured on the site that requires audience participation. But if any of these were available in 3D, then how great could it be, right? With Scandal on Stage, you get authentic and not overly exaggerated sex scenes in good quality clips. You are definitely getting more than what you paid for! So what are you waiting for? Scandal on Stage is waiting for you on their next act.
or check some more about ScandalOnStage on other good review sites!