RIVCams
Overview
RIV Cams is one of the best porn pay sites where to find free live sex cams. Many cam sites that use nothing but amateur models can't promise that all of their girls are out of this world stunning. That's not the case with RIV, their girls are some of the hottest amateur models out there. These girls don't depend on their looks though, they also have plenty of talent to back it up.
Subscribers will have their minds blown by what these RIV girls can do upon request. These ladies can even entertain when you're not in the mood for a video with a long list of erotic stories that they've personally written. The models of RIV offer subscribers everything that they could hope for and some they had never even thought of.
Design and Features
When a cam site offers you dozens of cam models to choose from like RIV does, it can be difficult to decide which one to watch or chat with. Users don't want to spend credits on a live private sex show with a model that isn't their type or doesn't perform their fetishes. That is why RIV gives you a great list of options to narrow down the list of girls until you find the one that is perfect for you. They give you the chance to pick the breast and body size of the model you want just like most sites but they don't stop there.
After picking the shape of the girl you'd like you can narrow down the list further by picking the language she speaks, the fetishes she likes, and user ratings of her. The ability to pick a model based on user ratings plus the chance to read feedback on each model is what makes RIV one of the best live sex cams website. Unlike most cam sites that leave you to pick girls at random RIV goes out of the way to make sure you find the perfect girl performing the hottest live shows.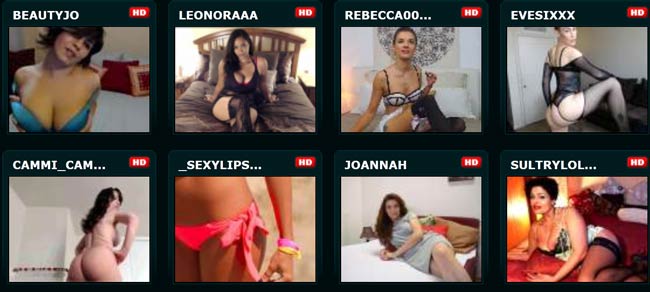 Girls and Videos
Many cam sites allow you to send models a private message and a select few will give you their private email address so you can get an even closer connection with your favorite model. RIV goes above and beyond even this by allowing you to send SMS text messages to your favorite cam models on top of their private messaging and IM services. RIV is one of the only sites on the net that allow you to send and receive text messages from the hottest girls on the web. These texts will make you feel like the only man in her life by taking you out of the chat room and giving you the one on one attention you crave.This gives you the chance to get down and dirty with your favorite cam girls in a way that you have probably never experienced before. What makes this system even better is that you can search for models who have their number on the site. Once you have chased down the model's number you want all you need to do is purchase it using site credits. Once you do that you have unlimited texts at your disposal.
Once you set up your free account with RIV you have access to the entire webcam site. After your account goes up all you need to do is purchase site credits to take advantage of a long list of features. The greatest feature is the ability to buy access to a cam girls number to send SMS text messages as was previously mentioned but there many more reasons to subscribe. Users can also use their credits to get a cam models email and Skype address to keep the action going even when they are not logged into RIV Cams. This is great for those on the go who still want to be able to connect with a sexy lady without risking going to a cam site in public.
Being a cam site RIV Cams also has plenty of ways for you to watch these gorgeous ladies as well by using your site credits. RIV lets you watch unlimited live shows of all your favorite girls as well as recorded past shows they have done. Users can also look at every photo that a model has posted to her page and read other subscribers feedback about her. The credits needed to access all these features cost surprisingly little. This makes RIV perfect for those wanting a lot of quality without spending too much.
Conclusion
Riv Cams offer some of the hottest amateur models around that have a great deal of talent to back it up. The wide range of choices they give you to narrow down the list of possible girls for you to choose from help's RIV Cams stand out even more. Letting you choose a models fetishes, language, and user rating means you find the girl that's right for you.
Even after finding their favorite models subscribers still get a lot for their money with a host of features offered by RIV Cams. The greatest of these being that users can use their site tokens to get their favorite ladies mobile number and send her unlimited SMS text messages. Subscribers can also get a models Skype and email address all to get a closer connection. Putting all the benefits that come with being an RIV Cams subscriber together shows that their are few other cam sites out there that can compete.
Visit RivCams