RealityLovers
RealityLovers Review
Overview
The porn industry has been a fast adapter of technology and has passed on the benefits of these technologies to porn lovers like us. Virtual Reality, popularly known as VR, was first introduced as a technology by the gaming industry, and later, this was adopted by the porn industry. A few new sites have caught the fancy of the VR bang-wagon, and one of the most beautiful sites that I came across is RealityLovers.
VR porn, as this has come to be known as, needs a technology solution to enjoy, i.e. an appropriate VR gear, such as Samsung Gear VR, Oculus Rift or Google Cardboard. When you watch the porn videos with these gears, you will get a 3D effect, and that's where the virtual reality concept gets its name. You feel as if the characters in the videos are performing right in front of you.
We have prepared this review for you so that you can decide how good this site is for you. We are sure that after you read this review, you will be tempted to sign up so that you can enjoy this porn fully. We believe that you are aware of VR gears in the market and you know how to use them. So, this review will focus on the specific design and features of this site as well as the girls and videos that are part and parcel of this site. So, go ahead and go on a wild ride through RealityLovers.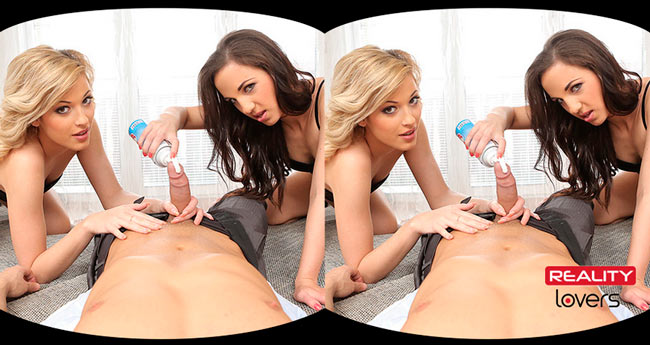 Design and Features
RealityLovers is a new site that is the brainchild of Virtual Reality Dreams Ltd., and was launched only recently. In a short span of time, the site has created a niche for itself and offers a wide range of themes to suit a variety of porn audiences.
The site is a no-nonsense site and gets to the point very quickly. When you enter the site, you will find a watermarked image of two naked sluts, hugging each other and licking their tongues. Great way to give a kick-start to this site! On this page, you will find tabs to Home, Join, Blog, Help, and Login. At the bottom of this section, there is a red button Start Browsing. This page is simple, professional, elegant yet very effective. It conveys what this site is about, with minimal images and text. At the top left, you will find the logo of this site.
On scrolling down, you see a list of five videos, each with different themes. The videos are loaded against the alternating gray and red backgrounds respectively. This highlights each video and you can differentiate them as you scroll down. There is a total of a dozen and two pages, giving you the pleasure of watching over 70 videos currently. And what's better than having two weekly updates? In about a few weeks' time, you will have numerous videos to watch and experience.
Each video thumbnail has a title at the top left in the white text. Below this, a brief description follows. In the central portion, you will find the duration and the date of release of the video. Towards the right, there are ten thumbnail pictures of the video. The video is visible on the video player on the left. You will find double images of a thumbnail, indicating that these images need to merge to give you the 3D effect of VR porn. Some of the videos are in traditional POV, while there are others in FemalePOV. What I liked about the videos on RealityLovers was that you could watch a trailer of the theme. The trailer is about 2 – 3 minutes long, and on watching it, you will be enticed to sign up after you watch them.
You can get an 180 degrees view of the room where you are fucking the slut. All videos are shot in 1080 pixel Full HD quality with binaural sound. You can move your head to see a variety of details of the room in which you are, which forms the head tracking technology of VR.
One thing I liked about RealityLovers is the blog. The blog gives you updates about what is happening to this site, where the site is headed to. The site has been nominated for the AVN Awards in Las Vegas. You will find links to news clippings, articles, and tutorials on how to view the videos. You can also sign up for regular updates from this site.
Girls and Videos
You are now restless because you want to know more about the females who feature on this site. Let me tell you that this site is designed for both sexes. So, you will find videos in which a guy is fucking a slut, or a bitch sucking a hard dick and getting pounded in all positions or lesbian videos, solo performances, and even maledom and femdom.
The combinations of videos that you can watch and experience are immense, and you will not be able to contain your happiness when you start watching and jerk-off to them. The descriptions are adequate and you will get to know what is in store for you. The hunks/bitches featured in the video are clearly mentioned at the top of the description. The blog section gives you more information about the girls featured on this site.
We have already pointed out how the video feels like when you watch on your player. Let us take the time to describe a video that we enjoyed on this site. Titled "The Garden of Sex," the video features a voluptuous cunt, Sara May. Wow, what amazing boobs she has got. I could not take my eyes off this bitch till the trailer ended. As you are watching Sara inviting you to her garden, she plays with her sexy body, firmly fondling her breasts, perking up your dick as she runs her hands over them. She then lifts her dress to expose her clean-shaven cunt. Yes, she is wearing no panty, and this makes her a very hot slut.
Turning around, she pats her ass to show a glimpse of how well-endowed she is and how much she loved to get her asshole pounded. She then serves you fruits, slowly undressing. She soon undresses you and takes your cock into her mouth. After some insane blowjob session, she sits on you in reverse cowboy position and fucks you hard. You can see your cock inside her warm and juicy cunt, as she fucks you. Finally, she turns her attention to your dick, licks the mix of your juices, and then takes your warm and sweet cum into her lovely mouth. 
What I loved about Sara May were her breasts. Man, she has superb assets. The breasts are round and perfectly pear shaped. This is the best shape for a slut's breasts. The nipples are found at the most strategic location on the breasts, not too high, nor too low; they are at the ideal location for sucking them hard. Areolas are perfectly colored and round, complementing the nipples. When you watch Sara May strip in front of you, trust me, your first reaction will be to throw her on the bed and suck those nipples so hard that she would scream in the pleasure of those nipples in sexual agony.
Conclusion
RealityLovers has a lot of going in favor of it. A new age site, a new concept, blogs to keep viewers hooked to the site, and tutorials to help you cope with the intricacies of watching porn on a VR gear. With 28 porn stars and regular updates, you will have a great time experiencing porn on Reality Lovers. How about subscription? It is affordable, and you will not have a reason why you should not sign up. From a monthly, quarterly or annual plans, you have three options to choose from. If you are not satisfied, you can also try their prepaid packages, for 1, 3 or 5 videos. You will not regret our suggestion to subscribe to this site, for you will get a "Revolutionary Porn Experience," and satisfaction is guaranteed!
or check some more about RealityLovers on other good review sites!