MySexySavita
MySexySavita Review
Overview
MySexySavita is one of the first porn sites to exclusively feature an Indian chick in all her glory. The original Savita was an animated character, a vixen, to be precise, who showcased her sexual prowess. What started off as an attempt to show the beauty of a sexually free and liberated Indian MILF, soon became mainstream, and thus was born MySexySavita. The Savita you will see on MySexySavita is a normal human like all of us, but she is different. Her sexual libido doesn't allow her to fuck one guy. She has an intimate need to fuck many guys, and that's something you will appreciate when we describe her likes and dislikes, and other personal stuff later.
Generally addressed as Savita Bhabhi, she is one MILF to watch out for, for her adventures never seem to give her the kind of satisfaction she is seeking. Bhabhi is the Hindi equivalent of sister-in-law and is used in a very casual manner, to address a married female. In the case of Savita too, she is married and does have a fairly decent sex life, but being an adventure seeker, she loves to have sex with many men and has no regrets about it too. That's what makes Savita so exciting to follow for, unlike many typical Indian women, she is carefree about her sexuality, and loves to satisfy her libido.
Such beautiful and sexy sluts are the reason why you love to visit porn sites, and with MySexySavita, you will love every minute of her sex life. That's the reason why we have compiled this review, to help you understand the awesome contents you will access and the benefits you will gain by subscribing. So, happy reading!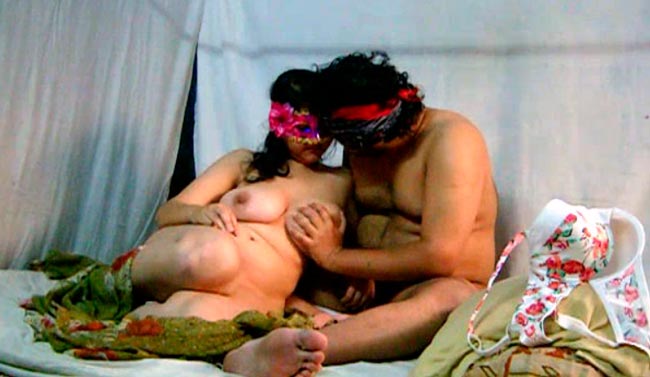 Design and Features
MySexySavita has an incredibly eye-catching site and we vouch for it, after having reviewed the site thoroughly. Obviously, the colour scheme is the first thing you will notice when you first login, though there is a very beautiful and enticing banner, and the slut herself is so sexy and great to watch, especially when she is naked.
Let's start with the banner you see at the top. The banner has a set of 7 images of Savita, getting fucked, having her boobs fondled and pussy fucked. Placed on a wooden frame in yellow ochre colour, the banner looks beautiful. The logo of MySexySavita in metallic golden sets the tone for the rest of the site, giving an indirect indication of the kind of bitch Savita is.
The unique colour scheme also blends well with the overall theme and design of MySexySavita. Consisting of blends of black, golden yellow, yellow ochre and white, MySexySavita has everything going in favour for it. Black is used to separate various sections of the site, to make reading and viewing a pleasure. Black also breaks the monotony of the site, consisting of a white background. The black doesn't play alone, and is beautifully surrounded by floral designs, in the golden yellow and yellow-ochre colours. Against the white background, such gorgeous designs add a dash of freshness and tranquility to the entire set-up. The black and yellow colours repeat themselves in each section.
A description of the site, with a few thumbnails is paced below the banner. The description very eloquently outlines the slutty nature of Savita and why she loves to fuck men. Savita's stats are mentioned in a white box, providing her vital information, active sexual partners, what she likes the most, what she wants to accomplish and others.
HD quality videos are arranged in a grid, with 8 videos per section. There are totally 3 sections, and on the homepage, one can view 24 video thumbnails. Number of likes and number of views can also be seen on the thumbnails.
Girls and Videos
Savita is a very outgoing and social kind of lady, someone you will fall in love with instantly. Her simple nature is very endearing, but in reality, she is not as simple as she looks. A housewife, this MILF has a very stable and awesome life, including her sex life. But she needs thrills, and adventure and the best way is to get fucked. A supportive husband makes things easier for Savita, and no wonder, the name of the site is MySexySavita.
Check out her lovely stats and you will only want to fuck such a chick for the rest of your lives. Savita's stats are 38DD-30-36. Nothing can get better than this. When Savita frees her boobs from the shackles of her bra, your eyes will literally pop out in amazement. The perfect boobs of cup size DD make them the immediate darlings of your eyes, hands and mouths. The soft flesh makes it awesome to fondle, grope and squeeze. The dark nipples, perfectly placed in the centre of the breast, will make your mouth go dry, and your instinct will be to suck those nipples hard.
Her waist is truly curvaceous, and the size 30 is an indication of this. The slut's curves can attract men in hordes. When Savita walks, while wearing a flimsy saree or naked, the curves are so well accentuated that you will only want to place your head on the curve or kiss them, tickle them to arouse Savita to the point of no return.
The beautifully shaped, round ass is a man's ultimate dream. The naked ass, of size 36 is perfect for spanking and squeezing, especially when pounded from behind. They even act as the softest cushion to protect your cock when indulging in anal action. No wonder, Savita's favourite position is doggy style and favourite fuck is anal fuck, and her body rightly supports her fantasies.
Conclusion
MySexySavita gels very well with the original fictional and animated character, Savita Bhabhi, and it brings to life the sexcapades in the form of a sexy lady. Outstanding themes, excellent performances, and above all, a body to drool over, MySexySavita is everything you can ask for from an Indian bitch. If this entices you, then you will be happy to know that MySexySavita is a very affordable site. Opting for the annual plan makes life easier, for you don't have to contend with recurring payments, and it is the cheapest too, offering you a significant discount over the monthly plan. So, what are you waiting for? Click Join Now and enjoy Savita to the hilt.
or check some more about MySexySavita on other good review sites!