ModelEve
ModelEve Review
Overview
ModelEve is one of the best solo model porn websites you can ever find. It is always being reiterated that you should never take anything for granted in this life. At the first glance, there is every possibility that you will wrongly assume that the site will turn out to be a fairly tame one even though there is nothing bad with that. The site is brought to you by busty MILF model, Eve, who is quite popular for her stockings and lingerie. Every lover of porn knows that any site that comes full of Eve posing and teasing in varying states of stripping and many of her friends in the mix must be great and nice. 
Sure enough, the site gives you some fabulous pantyhose and nylon sets but the 'Custom Sets' titled link must really catch your eye. All the sites that are like this one usually serve up distinct advantages that even multi-million dollar networks cannot – or will not – offer. They offer content that's so intense and sexually arousing that you cannot help but keep ejaculating into your pants. Eve actually executes all of her members' requests concerning photo sets and/or video movies. And you will be surprised to learn that these requests are extraordinary. In fact, it appears that there is a craving for pissing on ModelEve and that is what turns the site into a raunchy and special phenomenon. Before you begin dreaming of becoming a member of the amazing site, read this extensive review of the premium site first.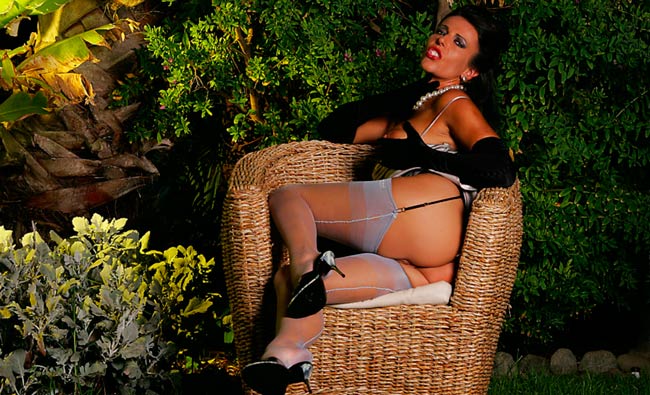 Design and Features
ModelEve's design is truly simple, with a 'frame' style navigation that works quite well. You are greeted with the latest updates of the site when you first log on. There is a vertical menu, which links to pantyhose, lesbian, fetish, live cam shows, nylons, hot pics, custom sets, movies and home to the left-hand side of the welcome page. All the links are pretty well self-explanatory. It is also a very good thing that all the major niches have been segregated so that you do not have to keep rummaging about when trying to find any content or preferences. 
The site features a surprisingly high content volume. The site offers about 1000 photo sets that can be downloaded in pre-zipped files. Although that might not be the largest collection ever created in the whole industry, it must be special in the book of every porn lover especially when it comes to the nylon/solo model niche. The imagery is also quite good, bordering on a truly high resolution, which is well worth being downloaded. You can truly raid the archive to create your own personal stash or pervy panties and stockings. You can create a stash to use in jerking off every time you feel like doing so. Every single one of the galleries is photo stamped which happens to be another great feature and they can be downloaded as ZIP files. 
Movies are not as well represented as images on the site but they still have a back slap that is truly hearty with about 200 being contained in the site's library. The clips, which are all exclusive and available for download without any limits for members, come with their highest resolution at 1280 x 720 @ 2600 kbps. They are available for download in WMV file format. You can also stream and watch them online by using a flash player, which has been embedded on the site. The collection of movies comes with an average play time of about 25 minutes, which is just perfect for a content of such intensity. The content posted on the site is so intense that you must develop a rock hard erection that will surely remain with you for a very long time. 
Girls and Videos
ModelEve is where the action is truly at. It is where you can get the horniest and hottest amateur nylon encounters. Like already said, the 'custom sets' category truly raises temperatures, especially if you are among those that are aroused by pissing. In a movie on the site, Eve rides a huge plump black ridged dildo then goes on to stick it right up her hot tight asshole whereby she allows a surge of golden liquid to flow all around and over her pussy which continues to glisten as she keeps playing with her engorged clit and open pussy. The scene is so erotic that the front of your pants will certainly get wet from the pre-cum that will keep oozing from your huge cock. 
Fans of lesbian action are also well catered for via several impressive movies and glorious photo sets which normally culminate in mutual masturbation. In fact, even the fetish niche is well represented with several sensual latex attires, equally sexy rubber masks and complete body stockings being given a very good airing on the amazing site. The site does not feature bonus sites but it does feature not less than 80 erotic wallpapers so that you always get the busty and sexy MILF Eve very close at hand. The wallpapers are downloadable with the most popular resolutions of 800 x 600, 1024 x 768, 1280 x 960 and 1600 x 1200. 
The site is as dashingly sexy and raunchy as it come. Eve is truly a model that is hot, horny and fabulous. She surely kits herself in some of the most outrageously sexy stuff that can be found. But one must admit that it is her sexiness that certainly makes her attires as sexy as they appear. If this is a fact, then it should be a pointer that will tell you how truly beautiful and sexy the model Eve is. 
Conclusion
ModelEve is a tidy, impressive, immaculate amateur site. It is certainly one of the most polished solo model lingerie, stockings and nylon sites. It scores very highly when it comes to content and that is the bottom line of what is required of any porn site. The quality of content it offers surely satisfies all members and users. That is the main reason why it has been able to gather a massive loyal following. All these and regular updates are what make it a highly recommended site, especially at just the most cost-effective price.
or check some more about ModelEve on other good review sites!