Missogyny
Missogyny Review
Overview
One of the stunning HD fetish porn websites with the best and kinkiest XXX scenes, Missogyny is definitely an impressive site to subscribe to. Here on this website, you can find BDSM scenes that you have only fantasized before. If you are a lover of kinks and BDSM, then there is no doubt that you will find more worth in your porn subscription if you are subscribed to Missogyny than anywhere else in the online world.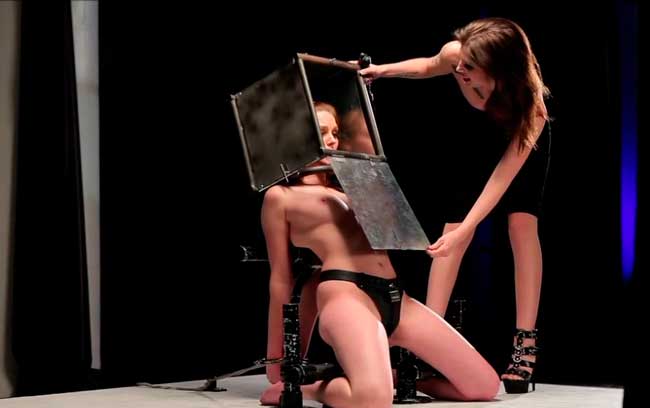 Design and Features
It is natural for porn lovers to first check out the site's design and features when deciding whether to subscribe or not. You don't want to spend money on a subscription only to find out that the site falls under a different niche than what you want or that its navigation is difficult to grasp. In Missogyny, the design and features are ones that you will surely appreciate. Belonging to the Fetish Network, the site follows a very simple and neat approach when it comes to its design. The videos are lined up meticulously in the archive. The graphics used in the banner immediately tell you what kind of scenes you can expect from Missogyny. As for the links, they are fully functional and are placed where they should be. The design is indeed worth praising.
If you look at the design of the site, you will easily notice that there are more females shown here than males. You can say that this site is a lesdom – a kingdom where girls are the main characters and they oftentimes engage in lesbian play. The site is not that large as there are only a few tabs on the main menu but the porn materials (both videos and photos) should total to a decent amount for your entertainment.
Speaking of the porn contents, the video collection already numbers to 4100 scenes or 23 full movies. The videos can be streamed and downloaded – without limits. On average, the videos run for 20 minutes. The formats available include 960×540 MP4, 1280×720 MP4, and 1920×1080 MP4. Through the site's embedded download manager, you should be able to download the videos anytime you want without any restrictions. As for the streaming, the site already has an in-browser media player. When it comes to the quality of these porn contents, the site boasts of the fact that the videos are HD. The videos will contain video descriptions so you'll learn something about the scene before you actually click on them.
Next, to the videos, it is also appropriate to check up on the picture collection of the site. Currently, the site has about 23 picture sets that you should be able to browse. A picture set generally contains 73 pictures each. While the pictures are high-resolution ones, they are mainly video screen captures of their corresponding video. Quality-wise, Missogyny definitely provides the best porn pics you can find online.
It is also good to note that your membership to Missogyny will get you access to 43 premium sites that are on the same Fetish Network as Missogyny. Examples of these premium sites include Pantyhose Creep, Amateur Smothering, Rick Savage, BDSM Prison, My Kinky Diary, Jerk Off Instructors, and so many more. As long as you get a full membership to Missogyny, you will also have access to the sister sites without fail. 
Girls and Videos
The women featured on a porn site are definitely the ones you would want to check out. In fact, it is important to check them out because there is no porn lover who would love to watch a video that features a porn star they dislike. Moreover, you would want to make sure that the girls here on the site meet your preferences. Some of the popular porn stars that you will see in the site engaging in various fetish sex plays include Indigo Augustine, Sarah Sevton, and Tori Lux. These are just some of the great porn stars featured on the site. You should still be able to choose from 500+ models. As for the women's appearance, they are mostly white-skinned girls but girls who are of other ethnicities are found as well. The girls vary from slender types to those with an average build. They are very gorgeous and sexy, with their O-face becoming part of your wet dreams in an instant.
Amazingly, the kinky sex plays that you can watch here include fingering, double penetration, blowjobs, and hand jobs. Of course, these are just some of the moderate sex plays to expect. Various hardcore BDSM plays can also be seen. You'll find women using BDSM tools or women getting tied with a soft rope. You'd be turned on watching these women. It is even more so when these women orgasm after some kinky sex plays. There won't be a problem if you checkout Missogyny right now. 
Conclusion
To conclude, it is worth it to spend a few dollars just to get your hands on a membership to the Missogyny website. Most of the advantages that are awaiting you are all on this porn site. Once you successfully pay for the membership, you will have access to the numerous videos and photos in the collection. Of course, you also have access to bonus materials from the bonus sites packaged with your membership. Definitely, if you like to indulge in some hardcore kinky fetishes, then there is no better place for you to be than here in Missogyny. There's much that you can get from this website, after all.
Visit Missogyny