MeanMassage
Overview
The mean massage is a website which deals with strong and sexy Femdoms who love to give rough massages to willing dudes. In this website you will notice that these Femdoms are not really trying to relax these guys as much as they are trying to keep their hard cocks hard and desperate to cum. In most of the videos, you will find stunning girls going topless and jerking their clients constantly to make them experience a massive and messy cum release. The website is loaded with superb contents and constantly gets updates. The bonus feature of the website is that you get a network pass to other hand-job porn sites. When I visited the website for the first time, I quite liked the action which was lined up in front of my eyes. There are some mind-blowing samples and pictures which showcase what you can expect out of the videos. They appear to be in HD formats and the girls in them seem like they are not going to stop until their erotic massaging results in a cum-splattering happy conclusion. It is quite obvious that their massaging is going to focus on somewhere more intimate as compared to places where most massages try and focus, but the guys in the middle of all this are hardly going to complain. They came to these ladies to get relaxation and that is what they are basically getting.
The website mainly has 22 updates mainly comprising of videos and picture galleries. The pictures are mostly sized at 800×534 and are available for zip file downloads. The videos are clear and have great sound quality and will make way for great viewing. One thing I found to be quite interesting is that the women in the website take a more dominant approach. The website makers believe that hand jobs are supposed to be aggressive. But to make their contents different to some of the other websites dealing with the same concept, their girls tend to use some restrain kits and also some harsh words just before things get down to the actual teasing hand job. The action is quite intense and both the girls and the guys involved will be seen quite enjoying their rendezvous. Another thing which caught my eyes is that the website offers women of all age groups teasing their guys. There are girls ranging between 19-24 years, hot girls in their 30s, sexy cougars, big breasted bomb-shells and many more. In the videos the meanness is seen in several aspects. Surely these dominating girls stroke their guys aggressively and also use harsh words erotically to arouse them if they feel the need to. They also tie them up using a rope and also deny them orgasms numerous times. They even laugh at these guys as they are seen struggling with their bonds and also becoming desperate for getting the hand job which they had hoped for. Though these guys are allowed to cum in the end, in some of the videos you will come across some girls who are not that generous making them again wait before their dicks explode themselves. However the action is quite intense and will definitely give you a great experience.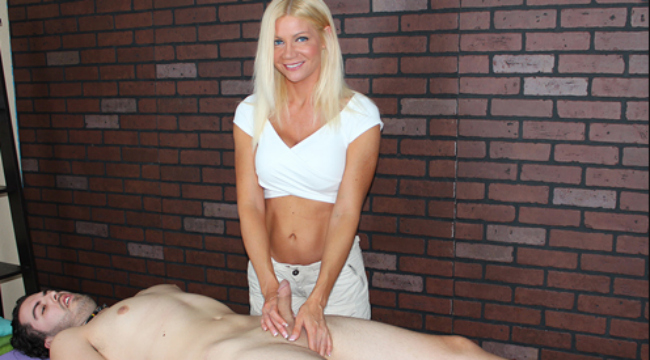 Design and features
The website is quite good and as you visit the website, you will find that all the menu bars and navigation options are all displayed at the top of the website. The download speeds are quite good across the boards and the contents which are lined up are also impressive. There are two options which I found quite interesting. The first was the scene request option which allows you to find the scene which you like and the second is the instant access option allowing you to access the different sections of the website. The website layout is fairly easy on the eyes. It also provides you a model index which enables you to find out the model which appeals to your eyes. If you want to become a member, all you have to do is simply click on the members' login option which on doing so will take you to the sign up page. There you will find that some empty blanks which need to be filled your personal information. Fill in the blanks with the right information and submit the request. The website will give you a confirmation and from then onwards your account will be activated. The subscription details will also be given in the sign up page and choosing which one goes with your pockets you can apply for membership. In terms of the payment option you will have to tend to the CC payment mode.
Girls and videos
The girls here are hot. The website has women of all ages and all of them are stunning both in looks as well as the figures they support. They can also be very mean and that is evident in the videos. As you click on the model index you will find names of all their girls lined in alphabetical order and if one appeals to your eyes, you can use the model index to know about her and also the number of videos which she has participated in. The videos are also intense and will definitely give you a hard dick. You will find ruined orgasms, cum control, cock teasing, scintillating hand jobs, femdom cock milking and lots lore. All these videos are crisp in their clarity and clear in their sounds. They are filmed in stunning HD formats using some of the latest HD cameras. They are so good that even the subtle sounds can be clearly audible. These videos can be easily downloaded on your desktop. The pictures are also lively. The resolutions are clear and can also be downloaded in zip file format.
Conclusion
Mean Massage is a great option for you to look into. The action is quite intense and the girls are super-hot. You will love the way they tease and arouse their men and make them cum. The subscriptions are also cost-effective and the bonus websites which you will get makes way for a wonderful package. So simply log into the website and be astounded by its existing contents. You are sure to love it.
Visit MeanMassage