Lesbians247
Lesbians247 Review
Overview
If you like lesbians, you are going to love the videos the Lesbians247 offers. These girls are taking pussy-loving to the next level, and if you become a member here, you are going to be lucky to witness it. Girl on Girl action isn't a new thing, but it's still a viral topic in the porn industry, and there is barely any studio which doesn't make a living from providing the eager audience with such porn videos. This hot topic is always fine, there are so many of us who look for porn without males disturbing the harmony of two women's love.
The Lesbians247 isn't alone in the porn industry's great forest – it has a whole system of websites to back it up and grant you something extra to watch. The series of sites you are going to access if you join the Lesbians247 is called "FullNetworkAccess" and it's quite a big network. You are going to find here a large selection of hardcore videos, covering all the niches you could think of. When it comes to quantity, the FullNetworkAccess membership is really something you should consider. On its own accord, the Lesbians247 will get you quite a number of hardcore porn videos: when we last checked, there were more than 260 hardcore lesbian porn flicks, and new ones seem to be coming on a regular basis. Apart from this, the network gives you access to more than 4,200 scenes. As additional bonuses, you can enjoy some hot live shows too. Naturally, the discount offers of third party providers are present too, but fortunately, it doesn't mean that the site is cluttered with banner ads or something.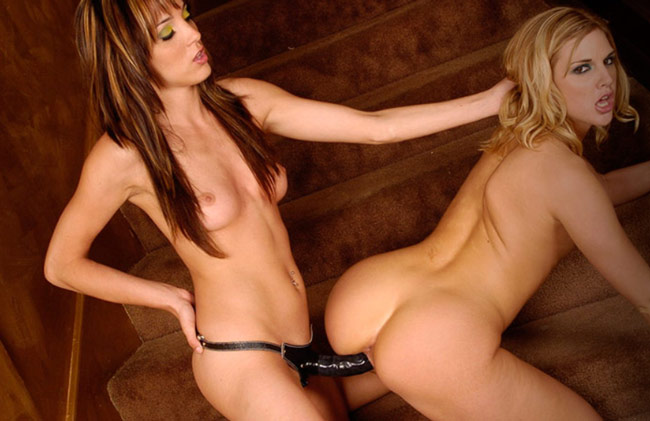 Design and Features
This site has a home page like any other, and it offers you only some bits of information. You are going to see a big banner right on the top of the page if you open it (you can follow our link). Well, this banner is showing some bits of information about the content, listing the most important features, referring to the fact that every video is exclusive (or so they claim), and the members' gain unlimited and unrestricted access. These are promising features, and after you sign in, you are going to see that most of them are kept. The inner section of the Lesbians247 is one that's going to prove to be easy to navigate. Though there is no advanced search, the search box on the top will make it possible for you to search the site and the whole network by entering simple queries (niches, model names) and selecting a category. Naturally, you can use the main menu to navigate to the important areas of the site. There is a live webcam site access included with your membership, which you can reach from the menu. Also, areas like the models' database and the support are reachable via the menu. As you will notice, the members' zone isn't cluttered with ads – in fact, there is only one sponsored banner on the right side of the page. Under that, you can find a few lists: the sites of the network, the most viewed videos and photo sets are listed there.
When you've found a video that caught your attention you have to open its page to be able to watch it. On a video's page, you are going to find an embedded player window, where you can start playing the flick as soon as you click on the play sign. Apart from that, the additional information is also there: date, stars, ratings, keywords, and you can also favourite the selected video. Also, as a feature, you can leave a comment too. There are several different methods to enjoy these scenes: you will find here mobile format (MP4) and a desktop version. It seems that only one quality is available. Depending on the source and the age of the chosen scene it could be SD or HD. The photo sets on the site are varied in quality, but they worth to take a look at, or even to download.
Girls and Videos
The site seems to work from some older and a few newer hardcore lesbian DVDs, so you can expect here only full-scale professionalism. When the girls of the site are doing their job, it's a hundred percent sure that you are going to feel your cock get harder by the second. These models are bigger names nowadays, and you've probably seen all of them at bigger websites, including the mainstream rules of the industry.
For example, Alexis Texas isn't a name we have to introduce, though watching her in lesbian action is a change after the dozens (even hundreds) of straight hardcore she's already shot. Since the videos originate from different sources, it's just expected that they show us somewhat different approaches to the sex. There are indoors and outdoors scenes, and due to their age, some of them even have some cheesy music playing while the girls satisfy each other. In a few cases, you could see an actual storyline unfold, so not everything is all about pussy eating and fingering, there is something different too. You will find that the models are doing it properly, so they kiss, caress and lick each other properly.
Conclusion
The Lesbians247 has to continue on the track it has set for itself, and keep on updating, so we could come back and find a lot of amazingly hot and amazing porn scenes, coming from some of the largest porn studios. There is more to the site than it meets the eyes at first glance, and becoming a member has it merits. The FullNetworkAccess is a fine porn network, and it grants the members everything they could've ever hoped for when hardcore porn came to mind. In these videos, the girls are doing the best they can to serve their man, and the girl on girl action is just damned sexy.
or check some more about Lesbians247 on other good review sites!