Jizzpix
Jizzpix Review
Overview
Jizzpix is a top amateur porn pay site for blowjob and facial porn lovers. Finally. Someone finally gets it. Let's be perfectly honest with each other, almost every time you watch porn, you watch a few seconds of the story, just to get some context, because sex is as mental as it is physical, and knowing that the chick that's about to give a p.o.v blowjob is supposedly your older sister's hot friend makes it even better.
After a few seconds, you fast-forward to a point where she's completely naked. 9 times out of 10, the video goes straight to fellatio from this point, then no matter what type, category or niche your watching. They then just switch positions a lot until the inevitable end, the guy, or guys, cum all over the girl. Often times without so much as a thank-you. You may watch certain parts for longer, your favorite positions or if they're capturing the girl from an especially flattering angle, but for the most part you probably get through the video in about 1/10th of the time that the video actually is because with our fast paced lives and the instant gratification that we've become so accustomed to, this is how we treat all aspects of our lives now. So you skip through to hurry up and get to the end because them climaxing on the video subliminally makes it okay for you to climax, which is what we're all here for.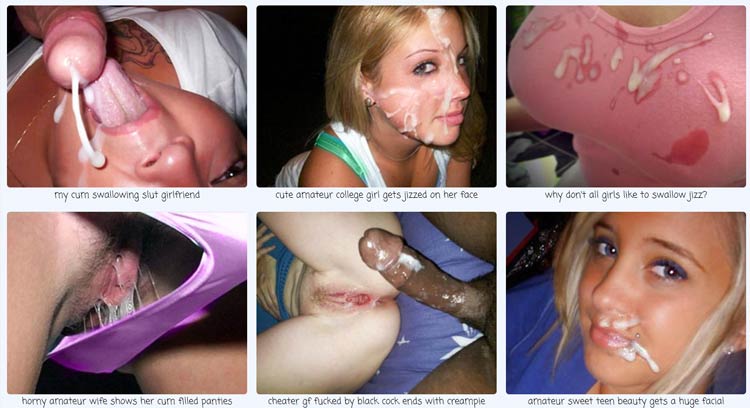 Design and Features
There are obviously exceptions to this rule, but for the most part most porn videos are viewed in a sprint because why waste your time with bad porn when there is so much good porn out there. That's where Jizzpix comes in to save the day. Let's examine the first two words in Jizzpix so we can get an understanding of what they're all about. The first word is jizz, a nickname for semen. It comes out, in varying amounts, every time a man orgasms, and is the inevitable end to every porn. Every porn with men anyway, although porn is featuring women also ends with them climaxing, unless a woman in a squirter, there is no physical evidence left over after she orgasms.
The second word is pix, photos, still pictures. Put that at the end of the first word, and you have an exact description of this website, in 2 words or less. You still need context? Well the site tells you that these are all pictures of girlfriends, that's all the context you need. Pictures of guys' girlfriends covered in huge loads of cum. That's what Jizzpix promises, and that's exactly what they deliver. But, Jizzpix also realizes that not everyone likes just still photos of girls covered in cum, and that some people love nothing more than to watch all the events that lead up to these ladies being covered in cum. That's why Jizzpix also has videos of sexy encounters that lead up to the end that we all know is exactly what we came here for. Jizzpix knows what's important to you, the end, so that's exactly what they give you, over and over and over again.
Girls and Videos
Here's an unheard of special proposition that Jizzpix offers. Jizzpix knows that you have pictures and videos of your girlfriend covered in cum or videos of you two fucking, and they want to share those with the whole world. Not only that, but they want to pay you for them. They will pay you for all of you pictures, $2 per picture, or they will give you $2 per minute of video. And if that's not enough, they will even give you free memberships for pictures of your own cum-covered girlfriend. Making money for fucking, and a world audience for all the things you do for free in the first place. That's just about as good as it gets.
These are all real girlfriends, they're all really hot, and they all really love cum. They'll show you how much when they suck their boyfriends off until they explode all over their faces, which they take with a huge smile as they squeeze out every drop. The site has about 100 pictures on its homepage that it lets you view for free. The site however does not allow you to preview any of their videos, and the other thousands of pictures will also be just out of your reach until you become a member.
Conclusion
Luckily for all of us, the membership rates are very affordable. First off, let me reiterate their free membership deal because there is nothing else like it. First, just make a video, or take some pictures of you and your girlfriend doing all the freaky things you do already. This time, just have your girlfriend hold a piece of paper that says "I (Heart) Jizzpix". Then send in the pictures or video, and they will be kind enough to give you a free membership. If you're not that adventurous, you could always just purchase a membership. If you want a 2 day trial, that will only cost you $1. A 1 month subscription will only cost you $24.96. For that price, you can view all the pictures and videos Jizzpix has to offer of girls being covered in cum. If you know that 1 month won't be enough, and you want to save on the cost per month, you can sign up for a 3 month membership for $59.78. If you want to take your time making sure you see everything the site has to offer, and see every new update for the next year, you can sign-up for a 1 year subscription for only $99.95. This is the best porn deal as it comes out to a little more than $8 a month.
Try Before You Buy
$24.96/1 Month
$99.95/1 Year
Site no longer updated! Have a look at the other best cumshot pay porn websites.
or check some more about Jizzpix on other good review sites!