InsaneCoeds
InsaneCoeds Review
Overview
Porn, in general, is made to give you an experience that lasts a lifetime. You can watch these porn videos either for free or subscribe to a site that provides you with these videos. Free sites do not provide you with anything new and all they provide is outdated content. On the other hand, subscription based sites provide you with porn that you would enjoy for the rest of your life because you get new updates every week. If the cost of subscription is low and affordable, then you will never need to subscribe another site.
Every subscription based site has a niche it specializes in. You will find gay sites, tranny sites, lesbian, MILFs, cougars, and amateurs. Within the amateur niche, there are barely amateur and amateur sub-niches. Amateurs come in various sizes and shapes. If a site features chicks who are nerdy and intellectual, while showing off their kinky and naughty side, you should subscribe to this site, especially if the site is affordable.
Is there any site that meets all these requirements? Yes, InsaneCoeds. It is affordable, has nerdy but naughty chicks, who are ready to show you their wild side. Don't take our word as it is, but check this review and you will second our thoughts.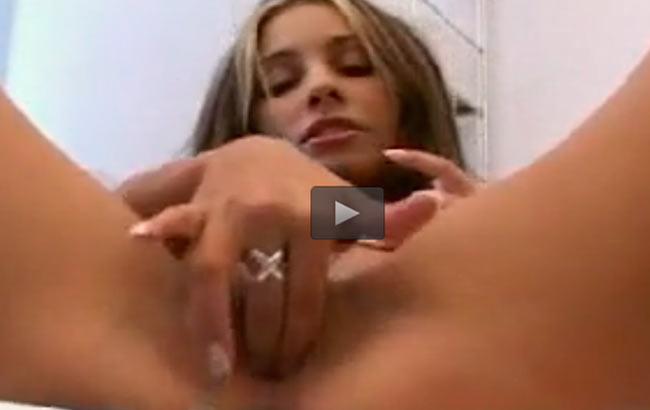 Design and Features
Which colours do sluts like? Pink is what I can think of. It is so girly, and sluts look sexy in a pink outfit. If the chick happens to be an American or a European one, her skin gives shades of pink when exposed to sunlight. The creators of this site have understood this very well, and have included pink as the background colour. The pink also provides you a very pleasant feel to the entire site. With a background that exudes this pink effervescence, you will get into mood very quickly and enjoy your porn immensely.
You have two tour pages to figure out what this site offers you. The tour pages only feature the sluts and their solo performances. To know more about the slut, there is a beautiful description, outlining why she is modeling on this site. On top of the description, there is a free downloadable video link. You can download the video and watch the slut masturbate for you. We will check out this later again in the Girls and Videos section. To the right of the description, there is a very beautiful picture of the chick. The picture is seductive, the slut is either naked or is provocatively dressed, adding to her sultry nature. Holding books to show her intellectual prowess, you have something new to check out with these chicks. Below the description and the photograph, there are thumbnails of the slut, fully naked, showing off her pink pussy, playing with her breasts, nipples, inserting her slender fingers into the pink love hole, and putting a dildo or bead chain to effective use.
There is a welcome message informing you about what you will get on subscribing. These sluts who look innocent, playful and studious turn out to do some of the dirtiest stuff to hunks. There is a beautiful banner that I loved. This banner literally gave away the premise of this site. InsaneCoeds in orange and pink with a blue outline looks classy. Next, to InsaneCoeds, there is a cartoon figure of a nerdy chick, with long trousers and T-shirt, with spectacles and pink complexion. Behind InsaneCoeds, there are a few books and a graduation day hat. These features of the logo inform me that the sluts are nerdy, and with high intellectual abilities. But, at the end of the day, they are chicks, and they have a sexual nature that none has seen. This is the reason why I loved the logo very much. The above features may look minuscule, but when they add up, the effect is mesmerizing. With a lot of nudity and nude sluts all over the tour pages, we couldn't help but get lost in the beauty of the site.
Girls and Videos
We have given you a hint of the kind of chicks modeling on this site. But these chicks are more than what meets the eye. When they decide to become horny and naughty, nothing can stop them. And what do they do when they are not pursuing their intellectual interests? Sexperiment. What did I say? Sexperiment? Yes, it is the combination of sex and experiment, where the sluts are experimenting with their sexuality. In short, they masturbate, play with their pussies, insert dildos, bead chains, use vibrators, and even insert bottles into those pink fuck-holes. If they are bored with their sex toys, they have a natural sex toy that they know to use very effectively. Their hands and the long and slender fingers. Finger fucking is the nerdy chick's favourite past time, and she knows how to hit her G-spot consistently. 
Lifting her legs high and playing with her pussy makes her cunt go wet. Her fingers are supple and easily go inside the fuck-hole. She digs her cunt and collects the juice in her fingers. She can feel the juices running down her hands as she brings it to her face to smell its sweetness. Unable to control, she slowly makes way to her quivering lips and licks the hot juice from her fingers. We challenge you that when you watch this scene, you will not be able to control yourself.
Going back to the video, you will find her fingers winding down to the pussy again, and she finger fucks herself with full rigor. As she fucks herself, her moans and screams only increase in intensity, disturbing the entire neighborhood! What's happening to you? You seem to be a little uneasy? Do you have the urge to go to the bathroom and jerk yourself hard? I do seem to be reading your mind, isn't it? Let me not tease you anymore. Read the conclusion quickly, and get ahead to join now.
Conclusion
I have no words to describe how good the sluts and videos in this site are. When these sluts are so good and beautiful, the subscription rates would be high, isn't it? Need not be. We pointed out in the overview that this is a very affordable site. So, you can lay to rest all your fears and subscribe to this site. Make sure you opt for the Best Deal that gives you a very deep discount. You will never need to visit another site to jerk off after you have paid your hard-earned money to a very good site. Your subscription will give you access to 29 other sites. All the movies and photos that you download or view streaming are in HD quality. The site is also responsive, so you can carry it with you wherever you go. Many benefits with one account. Go for it, Now!
or check some more about InsaneCoeds on other good review sites!