ILikeHandjobs
ILikeHandjobs Review
Overview
Hand jobs are the easiest way to get through a man's mind. If you're wondering, a good hand job will really make every man grow weak into their knees and will probably keep begging for more most especially if the service comes from a hot and gorgeous chick. Of course, you wouldn't mind these chicks helping you out at times when your hardened dicks need a little tugging. If you are looking for an immediate and trustworthy companion to take care of these things, I Like Hand Jobs is the only site that you should go.
I Like Hand Jobs is not your ordinary porn site because of the kind of dishes that they serve on the table. Unlike some other porn sites, this site focus on caressing and wanking cocks instead of hardcore pussy grinding and fisting scenes. I Like Hand Jobs has been filming talented cock players since August 2011. 5 years after, the site has already established its name in the hand job niche in the porn industry. The site has also reached over 220 videos through the years of updating their site with one video every week. Speaking of the videos, if you're already an avid visitor of different porn sites, you'll notice that some of the videos in I Like Hand Jobs are not exclusive. You've probably seen at least one or two of those videos somewhere else.
Aside from the main contents of the site which is the videos, there are also other contents like bonus galleries, personals and live feeds that you can see on the site. Moreover, you can also enjoy 84 other bonus sites from the Hot Bunny Pass network without paying for another membership for these sites. These bonus sites really help a lot knowing that the number of videos that you can watch in I Like Hand Jobs are not that numerous. However, the quality of the videos and the scenes are not that bad so it's a matter of quality over quantity.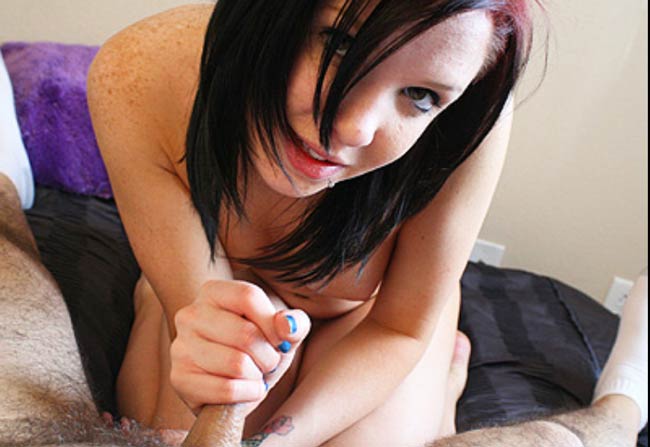 Design and Features
Unlike some other porn sites, the web design in I Like Handjobs is pretty simple. You'll also notice that the site is only intended for video uploads. Going through the site, you'll be able to confirm that there're no photo galleries in its contents. Despite that, you'll already find the videos more than enough. Going back to the site's design, it does not have any intricate designs like glittery banners or other embedded elements. When surfing through the list of videos, there's no other way that you could get to a specific video but to press the next button. There's no search engine to help you narrow down the displayed videos.
Aside from that, the videos are arranged alphabetically through the model's name. On the upper part of the page you'll also see the total number of videos in the site. Every week you can expect these numbers to increment since the site promises to update on a weekly basis. On the lower section of the page, you'll see a bonus site instruction. Here, you'll find a link to the bonus sites as part of your membership to I Like Handjobs. Aside from that you are also entitled to access the sites that are part of the ExtremeMoviePass. These bonus sites are cover a variety of niches such as amateur sex, hardcore sex, oral sex and a lot more.
Moving on to the quality of the videos, I Like Handjobs offers a fairly good resolution of 640×480 with an estimated bitrate of 1500k – 1700k for both downloaded videos and streamed videos. Although this is not the resolution of a high-quality video, still, it can be tolerated. The file format for each videos are only limited to WMV format for both downloaded and streamed. Each videos are approximated 10 minutes each.
Girls and Videos
The girls featured in this site are the best of both worlds. This means that they do not only have superlative beauties but they also excel in performing hand jobs. The girls are a mixture of sweet darlings and wild sluts but both do have smooth hands to harden anyone's joystick of pleasure. For the physical appearance of the girls, you can mostly see white girls. Though there are also ethnic models, the numbers are not that high compared to the white models. As for the number of models, it will be difficult to determine since there is no model's index in the site.
Of course, the site's name speaks for itself too! However, you'll be amazed how these girls bring a different kick to every video that will make it different from one another. In some videos you'll find a girl pleasing two dicks at the same time. There are also some videos where the girls do dirty talks while performing handjob. The best part of the video is that it looks like it is taken from your point of view. Unlike some porn videos, this will not give you the impression that you're just an audience or a spectator.
Conclusion
First of all, I think the search features of the site should be improved. Even with the 200 videos, browsing through these contents is already causing a lot of hassle. How much more if the number grows larger? Moving on to the positive points of the site, I think the site is doing a good job in updating the site weekly. The POV videos are also very unique and I think this is also very appealing to a lot of viewers.
And bringing into consideration the quality of the videos and the hardworking models, this site is indeed worthy of a two thumbs up! I would recommend this site to those guys who definitely love getting a good massage on their erect penis. I Like Handjob will surely give you a different experience with these talented bombshells who are dedicated to make you cum in pleasure.