GirlsInLove
GirlsInLove Review
Overview
Girls In Love was started with one goal in mind – putting some genuine emotion into lesbian sex. To be honest, the emotion has been lacking in a lot of sex scenes on other lesbian porn sites which seemed so mechanical. But once it was launched a while back, we all had the chance to be treated to some of the hottest, steamiest lesbian sex with girls who kiss, touch and fuck like they mean it. 
There are also plenty of categories including masturbation, threesomes, orgies, fellatio and sexy toys as well as insertions. You will also benefit from the high-quality videos which have been cleverly directed for your pleasure. The design is very clean, which means that you will have your hands on virtually everything that you ever wanted to see in a jiffy.
Girls In Love also offers its members with bonus sites which automatically translates to more, high-quality erotic content. Some of these sites include DDFBusty, HouseOfTaboo, HandsOnHardcore and FuckInHD. FuckInHD, for instance, has got hot, uncut and general porn that you can get to watch at any time you wish. If you want close-up creampies or blowjobs, you can rest assured to get them in here.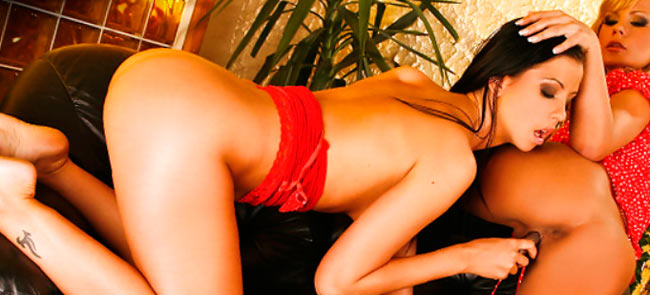 Design and Features
Girls In Love has a pretty convenient and simple design with such an amazingly simple color scheme. The site has been designed to help you find the latest updates with ease, since all you will be required to do is click on the updates area on the site.
You can either join for free or even better, join the VIP Area which comes with its fair share of advantages. One of the advantages of joining the VIP Area is that you get the chance to view all of the videos in full 1080p HD format. This is an upgrade as opposed to the 360p format that you get when you join for free.
Girls In Love also has got a searching tool which also makes it easy to sift through the plenty of content that is available on this site. On the home page, there is also an area that is dedicated to all of the bonus DDF Network sites that you will gain access to once you have joined.
Girls and Videos
Girls In Love makes sure that there is a wide variety of girls for your erotic benefit. From the slender girls with big, bouncy boobs all the way to those with nice, average bodies with plausibly beautiful and healthy skin. Also expect different hair colors in here including blondes, brunettes, redheads as well as any other color that you fancy.
There are also different hair lengths that can be found in here, all appealing to different people in a different way. Most of these girls (who happen to be white) love being totally naked. And that said, you will also find some girls in here who look sexy in lingerie. 
Some of these girls do have tattoos in strategic places on their bodies that you can't miss. Expect different breasts and sizes. You will find attractive, naughty pairs such as Janet and Sharon Pink who love being naked, have their blonde hairs all straightened and ready to get erogenous and naughty for you. The two hotties have got big boobs and love the idea of using dildos to pleasure each other. Ashley Bulgari, on the other hand, has got nice, white hair, big boobs and has a tattoo on her left hand. It's her nice, sensual and kissable lips that will attract you the most. In short, always pick out the girl that attracts you the most from a total of about 355+ pornstars presented to you.
Girls In Love also ensures that its members are treated to good quality videos which are exciting and arousing to watch. The titles are written in blue and is located right below the videos. An example of the video titles is "Monster Jigging Leads to Vibrating!". You can find other pieces of information such as the tags, the name of the cast, the number of views and the runtime on the videos.
These videos are very clear to the point that you can see everything that is going down there quite clearly, which is pretty much arousing. For instance, getting to watch Janet and Sharon Pink totally naked in bed using dildos in their pussies was such an attention grabber. You can clearly see the wetness in their pussies as the pink dildo is sliding in and out for the maximum pleasure.
Conclusion
Girls In Love, on a general scale, is a user-friendly site that has got all the lesbian sex that you have ever imagined. With categories such as power play, slumber parties, and horny masseuses, you can never run out of something new, erotic and stimulating to watch. For the umpteenth time, these girls are all sexy, dreamy and skilled when it comes to fingering, kissing, touching and massaging. You should, therefore, expect to have a wide variety of sex in here.
I also enjoyed how perfect and simple the design is. And on top of that, there are bonus sites that you can gain access to. There is nothing like being short of anything to watch here which is why I relish every moment I get in here. I also found out that there were plenty of hot girls available here. And this means that no matter your personal preferences when it comes to girls, you will almost always find your favorite effortlessly. Once again, the sex in here is so erotic and real that it will get you turned on in just a matter of moments. You can also use these features such as the popular pornstars column to get the hottest, most sort after girls to keep all of your erotic fantasies alive!!!
or check some more about GirlsInLove on other good review sites!