FreeLatinaPassport
FreeLatinaPassport Review
Overview
A great porn site, FreeLatinaPassport is a member of the Free Passport network, and includes numerous free porn sites, like FreeLesbianPassport, FreeAnalPassport, and many other sites. Though FreeLatinaPassport comes to you for free, there are a lot of goodies you get from this exquisite porn site. Featuring only Latinas, you will find FreeLatinaPassport one of the most interesting porn sites to subscribe to.
To help you arrive at an educated decision regarding subscribing to FreeLatinaPassport, we've presented a comprehensive review of this amazing porn site. On reading this review, you will realize that FreeLatinaPassport will surely add a lot of value to your jerk-off sessions as you watch the sexy Latinas fucked hard in hardcore lesbian and straight videos. So, without much ado, get ahead with this exclusive review of FreeLatinaPassport.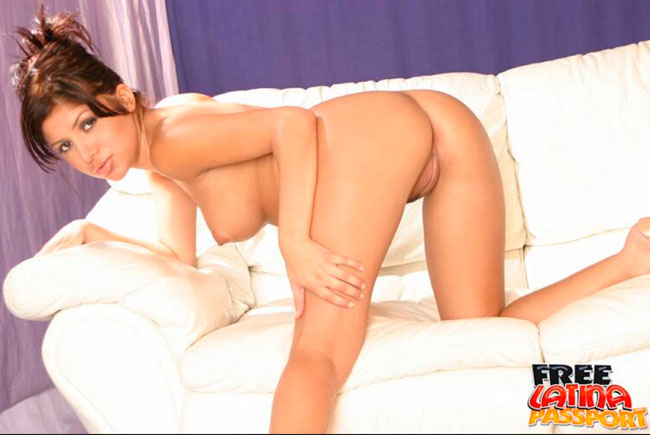 Design and Features
FreeLatinaPassport comes to you with a very simple design, which doesn't waste any time in getting you to the key focus area. There aren't too many links at the top, and you are directly taken to the grid of videos that adorn this awesome site. Each video is placed in a box, and presents itself with a caption, with the running length of the video, and the percentage of likes. There is also a link that allows you to watch the full movie. You can also click the image to check out the video in detail.
In terms of links, there is only one link at the top of the site, which allows you to create a free account. Additionally, the homepage offers you over 90 videos in the grid, and there are over 90 such pages on FreeLatinaPassport. Thus, you have a very massive library of over 3500 videos to enjoy on FreeLatinaPassport. One of the things we loved about FreeLatinaPassport is the simple colour scheme that the creators have used. A light grey ensures that you have a sober background colour, which doesn't glare at you when you are watching the videos.
Clicking on the video thumbnails on the home page or other pages will take you to a new page where you can watch the video you clicked. The video plays on a large player, streaming directly to your computer. Unfortunately, as a guest you are not allowed to watch the videos, but you can, on subscribing to the site.
There is no search tool nor is there any description for the videos. But the absence of these tools is made by the arrangement of the videos in the grid format. So, you can effortlessly choose your favourite video manually.
We shall now briefly check out the affordability of FreeLatinaPassport. You must be wondering whether FreeLatinaPassport is truly free or not. If you have any such confusion, we recommend you throw these concerns to the wind. FreeLatinaPassport is truly free, and all you need to do is to provide your email id, create your password and a username. And behold, you are done. You have access to all the exquisite porn videos that FreeLatinaPassport provides you. You also get access over a dozen porn sites in the network, with the likes of FreeAnimePassport, FreeBigTitsPassport, FreeLesbianPassport, FreeTeenPassport and many others. 
Girls and Videos
One of the best offerings of FreeLatinaPassport are the exquisitely beautiful bitches that it features. The sluts are among the most beautiful and sexiest chicks you will ever come across. Of course, all sluts are Latinas, and you need not worry about anything. These sluts are out there to give you the time of your life, show off their perfect bodies, firm, exquisitely shaped and round breasts, perkiest nipples, clean shaven pussies possessing the pinkest cunts and a very tight ass that can drive any sane man crazy. When you see these sluts, all you will want to do is to fondle and grope their breasts; suck, pinch and tweak nipples; fuck cunts and invade asses. Even among the Latina chicks the diversity is evident as you will find redheads, brunettes, and dark-haired sluts galore on FreeLatinaPassport.
In terms of the nature of videos, the diversity will hit you on your face, as you will find a great variety of videos on FreeLatinaPassport. There are one-on-one sex scenes, FFM and MFM threesomes, foursomes, orgies, double penetrations, cunnilingus, deepthroating, cock sucking, blowjobs, rim jobs, lesbian, dildo and vibrator stimulation, anal, and many more niches. Whether you like threesomes, or lesbians having insane sex with each other, you will only jerk-off to satisfaction and pleasure. The sex occurs both indoors and outdoors, with the outdoor sex being the best. It isn't that the indoor sex is not good, it's just that the outdoor sex is more enticing, given that the sluts are fucked for all to see and relish. The outdoor sex takes place in the beach, by the poolside, in the backyard, in the car and any other kinky place. Indoor fucking takes place in the bedroom, on the sofa, in the bathroom, on the couch, in the living room, on the chair, and others.
The sex itself is very exquisite, and you will want to keep watching the sluts being fucked hard in all their holes. Check out this video titled, Shameless Latina chick gets fucked. This awesome video shows a sexy Latina slut showing off her ass through her thongs, and a top, which barely manages to cover her breasts. Seeing her in this sexual state, her boyfriend gets sexually aroused, and ends up royally screwing her, fucking her tight holes with his hard cock. She gives him a hot blowjob, extending to an awesome deepthroat. The guy eats her pussy, and ends up fucking her in various positions, till he cums all over her breasts, mouth and nipples. 
Conclusion
Well, it is time for us to conclude the review of this awesome porn site. FreeLatinaPassport is a true passport to experience lust and the most pleasurable masturbation moments. Your masturbation sessions will cease to be the same, and you will masturbate harder, with more rigor and power. And that's the entire reason why you subscribe to sites like these. And when a site like this comes for free, you have no need to worry about your hard-earned money. Subscribe, relax and jerk-off to the visual treat unfolding in front of you.
Website no longer updated. Take a tour of the best Latina pay porn sites.
or check some more about FreeLatinaPassport on other good review sites!