ElegantAnal
Overview
There is nothing more sexy and perfect than a beautiful delicate asshole gaping out of pleasure. Anal is one of the most delicious and intimate sexual acts and ElegantAnal is the perfect homage to Anal. A site dedicated exclusively to this delightful practice. You will see some of the most beautiful girls gaping and having anal orgasms left and right and there is nothing more beautiful than that.
Design and Features
Making honor to its name the ElegantAnal site design is incredibly elegant and functional. A simple dark background leaves the door open for some beautiful stills taken out of each of the scenes that are available on the site. Along the image stills, there are also some fun gifs that illustrate way better what is happening on the scene you will be seeing. This use of media is a masterful and sophisticated way to catch your attention. Each of the scenes it is also accompanied by its running time and a rating out of 5 stars, that way you can see what other users consider to the be the best of the best. You can also see the number of views as another way to check out what videos are more popular.
The site functions extremely well on portable devices, its slick and elegant design it is well fitted for these devices as it makes the load times way faster than in other more busy sites where your internet connection as to double the efforts in other to load everything at the same time. ElegantAnal is an example of how this feature should be applied.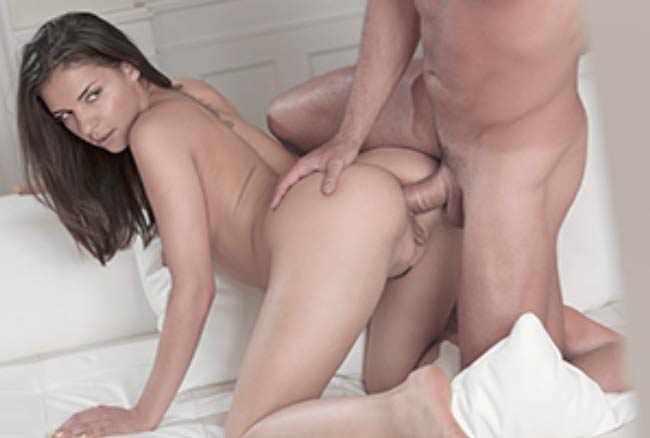 Girls and Videos
The girls! Wow! The girls that are featured on this site are just simply amazing. Beautiful, gorgeous pretty girls with tight bodies and delicate skin, all ready to give up their pretty assholes to the pleasure of anal. There is so much gratification on their faces that it will be easy for you to imagine yourself putting your cock inside one of these beauties.
Production values are sky high, the lighting and camera work are well done. All in favor of showing just how beautiful these girls are, Jessie Volt, for example, a gorgeous blond French slut ready for anything, has one of the most beautiful assholes ever, and you will experience it all in delightful HD resolution. These anal addicts cannot be stopped and it will also be difficult for you to stop in front of some of the most beautiful anal scenes and delicious creampies ever captured on camera. The average running for each of the videos is 30 minutes but some of them go beyond that. All pretty much comes into for with a good running time and some serious intense performances from our favorite girls.
Streaming works perfectly and image tearing is almost absent. The number of videos you also have at your disposition is enormous; there are hundreds of videos all with the same beautiful quality. If they keep doing like this it will not be a surprise to find ElegantAnal as one of the most popular sites of the genre.
Conclusion
ElegantAnal is a beautiful, functional, and sophisticated site for all anal lovers out there. The girls are just filthy, dirty and precious at the same time; you will not be able to avoid falling in love with them. This is one of those sites that are well worth your money. It will be difficult for you to be disappointed.