ElectroSluts
Overview
Electric pleasure is possible! Dames from ElectroSluts will send your way the lush shockwaves of desire and lust! They will do it in a commanding way leaving you craving for more than a hand down the pants. The videos abound with extraordinary, kinky girls, surrounded by the sizzling atmosphere of the pleasure machines. They are more than ready to experiment with their mistress, machines, and electric rods.
Design and Features
Entering this marvelous world made of pure electricity is quite arousing for people like me. Getting to know the ins and outs regarding this genre is just electrifying. I have instantly liked the dark background and the simplified menu bar. Essential and on point with the menu, the directions clear to follow especially when you need some time alone or when you are in a hurry to liberate yourself of a pressuring bulge in your pants.
The length of the videos vary from 20 up to 30 minutes depending on the story. Another thing I have appreciated a lot are the trailers. It really helped me decide whether to purchase a membership or not. The ElecroSluts is just a part of the larger network. Accordingly, when you decide to join the incredible electric world created by the kink network, you actually open the door to the whole new porn. You'll get access to 24 Kink sites. Sites like Hogtied, WeirdPussy or EverythingButt will be just a click away from your imagination. That is just the cherry on the top of 10,000 hours of HD video, 12,000 shoots, and 2 million photos.
Moreover, the updates are regular and occur multiple times per week. Besides, if you happen to be outside and you have an irresistible urge to give into your most secret desires and scratch your itches, you can do it with ElectroSluts because it is a mobile friendly site.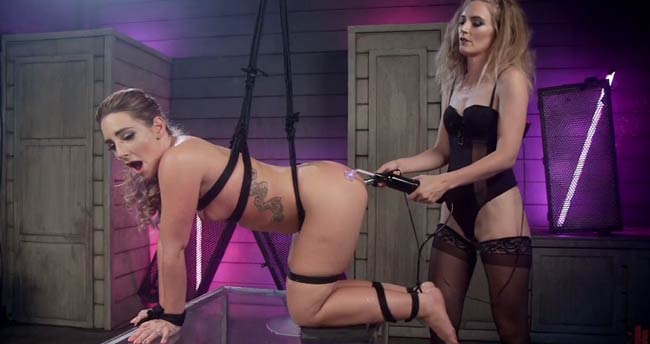 Girls and Videos
In my favorite videos, chicks squirm and wiggle under the brief bites of electric fire until there is nothing they can do but surrender to the imminent orgasm. I like to see those hot sluts sprawled on the bed or table, wet with juices and drenching the lucky girl underneath. Frequently in the videos, their butts end up in the air and chest flat on the floor. That position is arousing for us that watch and wait for the thunderbolt rod and it is unimaginably exciting for the girl in the video.
I have tried satisfying my lust in more than one way, while watching these videos and I have succeeded. Nothing made me feel vibrant as watching the use of electric dildo. Maybe it is kinky stuff for others, but for me it is pure satisfaction. The videos I have watched are all HD quality. The exceptional settings and the care put into making them are worth your subscription and your time.
Conclusion
ElectroSluts has everything that kinky porn devotees really need. There is a quality production behind the videos and remarkable settings for all of their movies and photos. The girls are awesome and well versed in their ways of giving electrifying pleasure.
You will have fun and plenty of excitement watching horny mistresses playing with the electric rod and using it to make girls cum copiously. You will be pleasantly surprised to see the incredible sex machine capable of giving the orgasm to the lucky girl. If you are into electrifying pleasures, you will get what you need!