DreamsHD
Overview
DreamsHD is a website where you can satisfy all your desires in sex. You see men having threesomes with women and giving hot oil massages to naked beautiful chicks; in some of them a girl is sandwiched between two guys, and in some you see a latina girl sucking off a hung dude. Surely these must be your fantasies, or at least, a part of it.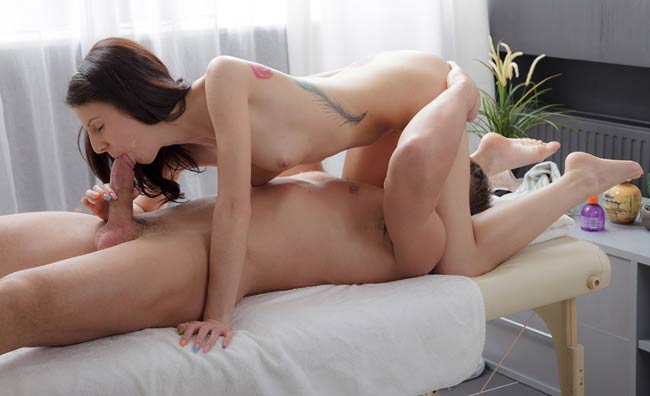 Design and Features
The design of the website is nice and pleasant on the eyes, surely a sight for sore eyes after a long day in the office or other work. As soon as you enter you are met with a pop-up page that asks you to confirm that you are the right age and that viewing explicit sexual content is allowed in your state.
Further, they make you reassure them that you may not expose this material to the unwanted audience and that it is intended only for personal purposes. Upon agreeing, you see a dark grey background coupled with white overlays to fit in the videos on display and the pictures are in full HD so you can see the honey available on the website. The visuals are very well composed, soothing and gentle.
The videos that are in HD are laid out for display so the users can pick and choose the one they would like to watch and the logo is a light grey and pink combination with HD written inside on the far right. You have the menu bar that has contacts, support, and videos and after the videos, there is a menu bar for top models collection.
Girls and Videos
DreamsHD features 39+ hot and sizzling models that adorn your screen and set it on fire! Enjoy watching these women suck dick, get pussy fucked, anally pleasured and mouth fucked all but with a touch of politeness and softness which is admirably endearing to watch. There are 91 scenes for you to watch and you may download these videos in pure full HD in Mp4 in stunning 8000K! With 1920×1080 resolution and in WMV in 8000k with 1920×1080 in the browser itself. The movies can be resized in a browser so you shall have no trouble and there are also picture galleries for you to enjoy, with 89+ galleries and 135 pictures in each gallery, but you may not be able to download them into zip files.
The other bonus features of the website are live feeds, which means you can see real-time updates of all the content being uploaded onto the website and you shall be notified. Further, there is a store where you can buy DreamsHD related stuff like soft white linen cushions and plush pleasuring toys for the ladies,you can also buy behind the scenes movie clips of the videos and bloopers. The good thing about joining this website is that you can access different other websites like Analyzed Girls, We Need New Talents, Nylon Sweeties, and much more. All these websites will be under your control and you will be able to access them whenever you wish all at the click of a button.
On the mobile, DreamsHD is nice, it is mobile optimized and you can browse through it pretty easily and there are no hangups when you are going through the videos even though they are in full HD, this goes to show that they have their backend work cut out very well.
Conclusion
DreamsHD is an apt name given to the website as it features hot women having sex with guys in white linen and flowy white curtains that surely gives you the chills of being in a dream or in heaven; the visuals are truly stunning and soothing to see, it is a softcore porn website.
or check some more about DreamsHD on other good review sites!