DivineBitches
Overview
DivineBitches is an awesome BDSM website that focuses on mistresses dominating men in the best hardcore videos out there. The men are subjected to many situations and poses and they are made to suffer while the women enjoys herself. You can get videos, pictures and live shows and you can also get some of Maitresse Madeline`s gear for BDSM.
Design and Features
The DivineBitches website is responsive and generally works great. Latest updates are shown as 3 preview pictures per row, on a dark background. This contributes to the atmosphere of DivineBitches that seems to take you to a sexy, mysterious world where these women can do anything they want. The best part of DivineBitches is the fact that is works as a video collection but also as a store, as there are many links to other websites where you can buy the same toys that are used in the videos. So while you get new ideas from the pictures and the videos you will see on DivineBitches, you can also click to buy the toys for yourself.
Another great thing about DivineBitches is the fact that they have a great forum, where a whole community is chatting about BDSM, fantasies and how to apply them to real life. The input I got from these men and women is awesome. The forum is actually active so you will have daily updates to look into.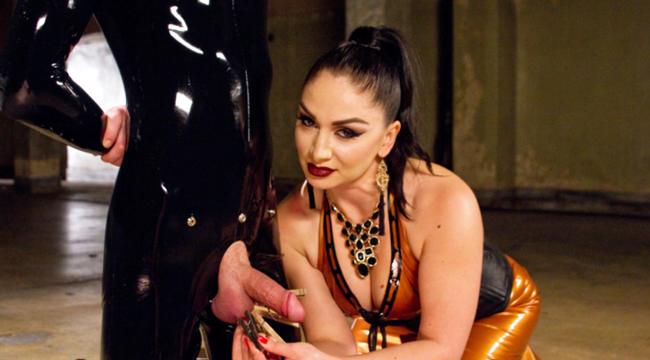 Girls and Videos
There are many types of girls on DivineBitches. Most of them are fit and look awesome. However, the point of DivineBitches is not getting the best-looking girls but the most badass ones. Therefore, there will be some BBW women but also fit ones. I saw both white women and black women. They are all perfectly shaved so they look awesome in latex.
Videos have everything from butt play to making the man bite a dildo and use it to penetrate the woman and her sitting on his face while he is tied up. There are many more topics that the videos are about on DivineBitches but all of them are clearly professional, the camera crew is doing a great job and the actors are great. The guys that are being used in these videos also look mostly fit, but just like the women, there are also some regular chicks. Sometimes, there are 2 guys and 1 girl but again, the girl is having all the fun as she is making one guy have sex with her while the other licks her feet or her breasts.
As the videos are professional they are all in HD quality. The streaming of the video works pretty well as you can skip through the scenes quickly and still see everything in great quality. You can also download the videos in wmv or mp4 format so if you want to watch the movies when you don`t have an internet connection anymore you can.
There are over 300 hours of videos on DivineBitches and almost 90.000 pictures. The collection gets bigger and bigger every Wednesday as they come with a new high-quality video each week and with some Live Shows. The membership is quite cheap taking into account the amount of niche content that you can find on DivineBitches. You can subscribe for a month, 3 months, 6 months or 1 whole year.
Conclusion
DivineBitches is one of the best collections of BDSM websites where the woman is in charge. They have everything you can imagine and they come with a whole new video every week. The videos are shot in HD and the girls are clean and professional. The site loads great and the forums are populated all the time so subscribing to DivineBitches is a great idea if you like this niche of porn.
Get your DivineBitches Discount