BurningAngel
Overview
Most people think of tattoos on women as huge "Fuck Me!" signs which is really an unfair assessment. While not all females who have ink are cock-loving sluts, no one can deny just how hot they are, especially when the tattoos they have are well placed near the tits, ass, or pussy. And in Burning Angel, fucking tattooed women, punk and emo ladies is the name of the game. Women who love to get inked, wear leather outfits like punk outcasts, and color their hair in weird hues are often the emotional and sexually aggressive types and you will see that in Burning Angel. These ladies give it their all or they give nothing at all which means once they decide to spread their legs or open their mouths to let giant cocks in, there is no stopping them until they cum and get jizzed on by the lucky gents who become their partners.
But Burning Angel is more than just inked or punk women getting fucked mercilessly. There is also hot lesbian action featuring two or more females who are either wearing emo and punk outfits or are covered in tattoos. There are threesomes and even gangbang videos all featuring women with tattoos or wearing punk attires that are weirdly sexy and oozing with a lot of sensuality. Burning Angel is teeming with videos and films that feature men and women who look at their own skin as a giant canvas. No, the site is not about getting ink done, but the voracious nature of people like them when it comes to fucking.
The video previews highlight hardcore banging and women begging men to go deeper inside them using their dicks and fingers. If one of your fetishes in life is to fuck a tattooed lady, then Burning Angel is as close as it gets.
Design and Features
The Burning Angel's site design is pretty much fuss-free and wants visitors to go straight to where the action is. Short video clips give users a taste of what they can expect to enjoy non-stop once they decide to become full fledged members of the site. And this is an excellent and very generous move as far as marketing strategy goes. It's kinda like giving away free samples which show a lot of confidence from the makers' standpoint. The site has three special areas wherein visitors can browse to see if it fits what they're looking for in a porn site.
The first one is the "video" page where all the movie clips are lined up. Each film has a teaser that's intense enough that some might end up jerking off to them (a fair warning). The videos have titles and show the names of the featured actors. The next page is called "Pornstars" which is pretty easy to explain – this is the gallery of the site's star actors and actresses. From the seasoned veterans to the freshest pussy in the block, visitors can take a look at the list and find out whether their favorite emo chick or tattooed fornicators are featured in Burning Angel.
Last but definitely an important feature is the "categories." The site is clearly targeting people who have a fetish for inked and emo women, but separating the videos according to the kind of sex they offer should make browsing for the desired content a lot easier and way faster than piling them all up in the site. If you want anal fucking of tattooed women, just look for its category and all the videos that contain such scenes are served instantly.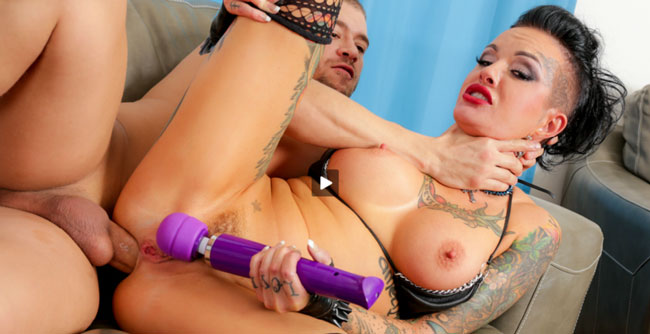 Girls and Videos
Most actors in the porn industry have ink on their bodies but not all have the same number as the stars featured in Burning Angel. The women cast in the videos love getting tattoos and some of the designs they get almost cover their entire bodies which is really exciting for fans who love seeing females covered in ink get pounded by guys with huge cocks and the same number of tattoos on their bodies. It's really hot to watch gyrating bodies covered in tattoos coupled with screams and moans from women who just can't get enough of being licked, sucked, fingered, and fucked.
Both the men and women in the films follow scripts which are all done well and creatively. They make sure their tattoo riddled bodies are highlighted and those with emo or punk looks are also placed in the limelight. The videos of Burning Angel are in HD so prominent tattoo designs are easy to spot despite all the shagging and banging going on. Of course, as long as the women are beautiful and willing to be destroyed by monster dicks, the ink is usually rendered as secondary object of desire. And as far as storylines go, the films offer pretty much all possible scenarios for a good and satisfying fuck. Although a big majority of the stars are well known in certain circles, there is also a sizable number of new and fresh faces gracing the screen every now and then. This means becoming a member is truly a worthwhile activity to pursue.
Conclusion
Burning Angel is a fetish site for tattoos, punk and emo people who show that even those who love weird fashion are also capable of intense "horniness" that only a good dose of shagging can cure. But there is more to the site than women or men who have ink on their skin getting it on in bed or wherever they fancy fucking each other. The videos are professionally done, which means hiring the best in the business in terms of production and performance.
The stars know enough that a lot is riding on their performance and so they deliver pure and unadulterated sex. From hardcore to plain and simple fetish fucking, Burning Angel delivers quiet the action that is pretty hard to find in other sites especially in the same category. While it is for exclusive membership, one great feature or strategy the site employed is allowing visitors a short glimpse of what videos are all about. By doing this, visitors are actually made hornier, which should push them to take action and immediately sign up for the site membership.
Get your Burning Angel Discount