BlackTGirls
Overview
If someone was to ask me what is so great about shemales, I would say, everything. From top to bottom, they have it all, lovely, girlish faces, with or without makeup, big or not so big boobs, it really does not matter. They have butts that you can only love and fuck, as well, and they have dicks, specifically, on BlackTGirls, they are black dicks, huge and erect, ready to do some pounding and have their asses pounded, too.
Design and Features
Speaking of pounding asses, you should know that upon getting to the site, that would be the first thing that you would see. A giant sliding image that contains a lot of great photos of shemales masturbating or fucking, or just flashing their dicks, awaits you on the top of the home page, and is a perfect welcome. I also love the previews that are below, which also show photos from the videos, yet there are much more of those and they come with a text, one which summarizes a lot of the action, and in a good way, too. I have also enjoyed seeing the search bar, as when you join, you get to explore the site in a very different way, by using the said search bar, and by using the sorting options. The customer service is also there to help you should you need help, and the most important thing of all, is that the site has absolutely no lag. Yes, you can load a lot of videos, and you can also do that from the mobile devices, too, as it is greatly optimized.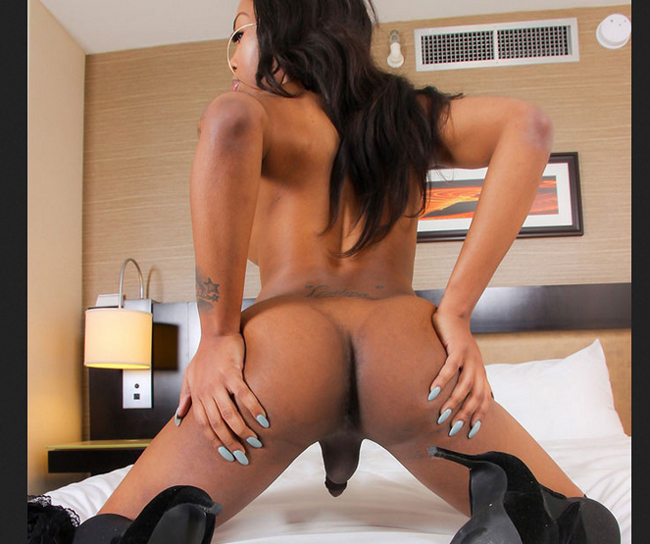 Girls and Videos
But optimization is not what gets people to stay, the shemales do that, of course. Seeing how there is so much variety among the shemales, it gets hard for people to choose one or two to view at a time, as the videos last at least 20 minutes, the average being half an hour. The videos are also in a high resolution, as they are all filmed in high definition, which is a great asset, as then you get to see content in a better way, as the close ups come to life, and the blowjobs become a real treat. Seeing a blowjob while the other dick in the video gets huge and hard is a nice way to start a day. Males love to fuck with these shemales, as their big, round lips can really be a good treat, giving the best blowjobs, and not to mention their tight asses, that keep giving an orgasm after orgasm. Seeing both the male and the shemale cum at the same time is amazing, and they also have photos of that, so you can have it as a still image, too. Everything on the site is downloadable, and you can have a collection of both the videos and the photos, should you wish to do that. Streaming is also an option, when it comes to the videos, and the photos are easily viewable from the site's photos section.
Conclusion
And those are just some of the things that make BlackTGirls a great site to explore, from the first thing that you see, to the very videos and the photos. The shemales are hot, steaming hot and they love sex, so you will not have a problem there. The only problem you might have is not lasting until the end of the video, as the action is so tantalizing, that having an orgasm becomes as easy as opening a video.
Get your BlackTGirls Discount