BigTitsAtSchool
BigTitsAtSchool Review
Overview
There is something very fascinating about taboo sex, and if the sex is between a teacher and a chick it can be very alluring. Sex between teacher and their pets could be between a male teacher and a chick or a female teacher and a fresh guy and can be very appealing to watch. When you consider the sex of this type, you get nostalgic, because you have always had a fantasy to fuck your hottest teacher. The most handsome guy to teach you can make you go weak in your knees, and your fantasy was to get his dick into your pussy. What if your favourite teacher has not taught you anything? Her sense of dressing and the way she carries her sexuality can make you go wild in your dreams and your mind would race to fuck her if the opportunity presented itself to you. Isn't it?
There are a good number of sites to cater to this kinky fantasy, because such fantasies are real, and cannot be fulfilled easily. Of the many sites offering such taboo sex, BigTitsAtSchool is a very good site that you should consider. The permutations and combinations of the kind of kinky sex that this site presents are large and features male teacher and a chick or female teacher and a guy having crazy sex, during a lecture session, or in the gym or at the cafeteria or in the living quarters or in any place exciting enough to help you jerk off peacefully.
If you are finding this a joke and feeling skeptical, then you should read the review that has been provided below. We have compiled this review so that you can take a decision at the end of this review. And we are sure that you will click the join now button after reading the same.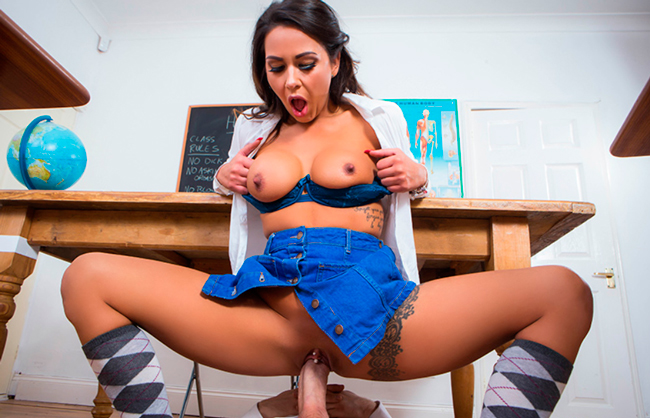 Design and Features
When you enter the site, you will be surprised to see the simplicity with which it is designed. Being part of the Brazzers Network, you are sure to get the most beautiful designs for a porn site, and BigTitsAtSchool is no exception. Well, there is an update. BigTitsAtSchool is no more accepting new subscriptions and is merged with the Brazzers, its parent site. While the basic design elements have been retained, elements of Brazzers have been incorporated.
Let us first describe the elements of BigTitsAtSchool separately, and then look at what Brazzers offers you. A grey to white background for the videos section is seen at the top. BigTitsAtSchool in black and red text is seen to the left, with a brief description of this site is seen next to it. The site currently features 526 videos and counting, while there are more than 1500 photos for you to download and enjoy. The videos and photos can be downloaded in 1080p or 720p HD or SD quality.
Each video has a dedicated page with a title, a description, featured pornstars and some vital statistics such as length, the duration of each act such as anal sex, deepthroat, blowjob, pussy eating and others. The tabs section has links to Scenes, Pornstars, Sites, ZZ Series and Live Shows. The Scenes Tab takes you to all the videos BigTitsAtSchool presents to you. Similarly, on clicking the Pornstars Tab, you are taken to a page with a wide array of porn stars.
Membership is very affordable. You can try a one-day trial membership before subscribing to the website. If you are satisfied, you can then sign up for a one-month membership plan, or a quarterly membership or an annual membership plan. The annual membership plan is the best, and you can get more than you bargained for. The annual plan is cheaper by more than 50% as compared to the month plan. Since the site is now merged with Brazzers Network, you will have access to 30+ sites for the price of one. 
The second good thing about this site is its responsive design. The responsive design will give you a great mobile porn experience, allowing you to take your porn with you wherever you go.
Girls and Videos
The sluts and bitches in BigTitsAtSchool are among the best you can come across. With huge boobs to give a man a hard-on as hard as a rock, two eyes of yours may not be sufficient to enjoy watching them. Fully developed, firm and round, the breasts are any man's dream come true. He would love to grope and fondle these breasts all night long. The tits of these bitches are so perky, you would want to keep pinching and sucking them all night long, till they are sore with your saliva.
The sluts are diverse, in terms of their ethnicity, their body type, boobs, pussies, and asses. The sluts are common to all sites in the Brazzers Network. There are 1600+ pornstars, and that's a huge number. And mind you, we are talking only about the sluts. If we include the guys in the list, then there is probably no comparison on this front with this site. Each pornstar featured on this site has a separate page. You can find all personal information and vital statistics about the pornstar on this page. It is like his/her bio page and you can also check out the videos the pornstar has featured in.
The sluts love to eat cum, take cum in their asses or pussies or get their mouths, asses, and pussies fucked, in the most innovative positions. They love the feeling of a rock-hard cock in their wet pussies. Let me describe a scene to give you an idea of what a wonderful site this is. One of the most popular stars of this site is Brittany Bardot, who loves to become a submissive slut. She has earned the wrath of her teacher, and he has decided to teach her a lesson. Brittany has a very tight ass that needed a hard fisting as a tool to discipline her. The angry teacher strips her as part of the disciplining process, and as an obedient sub, Brittany allows her teacher to strip her. The teacher then starts fisting her ass to initiate the disciplining process. Brittany enjoys the disciplining and cums very hard as her ass is fisted tightly.
Conclusion
Trust me, after visiting this site, you will never want to visit any other site again. In addition to its affordability, you can know more about your favourite porn stars, the videos they are featured in. All porn stars are very famous and are household names in the world of porn. Affordable is an understatement, but when you have access to more than 30 sites in the Brazzers Network for the price of one, you will not want to miss out on this wonderful deal. To jerk off, this is an excellent site, offering you great porn and famous pornstars. Go back to the top of this page and join this site now!
or check some more about BigTitsAtSchool on other good review sites!