BigBootyTgirls
BigBootyTgirls Review
Overview
BigBootyTGirls is a great transsexual porn high-quality t-girl contents. These exclusive tranny porn videos are available in 1080p full HD resolution with something for every kind of porn lover. Offering amazing categories like anal sex, blowjobs, interracial and hardcore, BigBootyTGirls specializes in trannies with true big booties. Presented by the Trans500 network of tranny porn sites, BigBootyTGirls is an amazing site to subscribe to.
The sluts featured on BigBootyTGirls are among the sexiest you will find in a long time. They have awesome breasts, slim and curvy waists and awesome cocks that can put a man to shame too. But the best part of their bodies is that big and round ass that can give your cock a hard-on in no time. These bitches know the value of shaking their booties to attract men's attention. And shake they will, not only while fucking, but at any point in time also.
This exquisite porn site does deserve a round of applause and an extensive and comprehensive review will add a feather to its cap. We've compiled this review for your kinky minds and horny cocks, so that you can figure out what you get when you subscribe to it, and how it will aid you in your quest for achieving the perfect jerk-off session.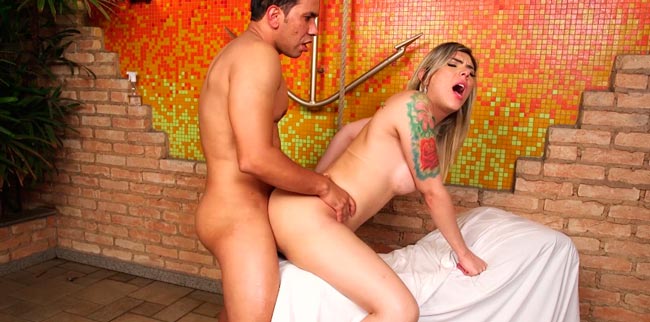 Design and Features
BigBootyTGirls has a very pleasing and aesthetically designed site. Sites like these are changing the rules of the game, and giving enough importance to the kind of contents that they boast of. To that extent, you get to see the latest video, a set of top videos, the top porn stars, and appropriate links to take you to various pages in the site. Featuring three slides of the best handpicked videos, the slides show the lovely asses that these chicks possess, and the awesome bodies that they boast of. The asses are round, and huge, and when they are sweating during their sexual act, you can see the booty glistening, like a shiny ball.
The slides show you two kinky tranny pornstars, Bruna Butterfly and Giana Becker. Another unknown chick's big booty is also on display, which can get your temperatures soaring and adrenaline rushing to your cock.
A lovely banner of Isabelle Ferreira adorns the space below the banner. This sexy Latina has an amazing pair of breasts, with her kinky nipples pierced right in the centre. Her pierced nipples look exquisite against those perfectly round and firm breasts. Her dick is exquisite and the banner has a set of three photos showing the guy kissing and fucking her, while she sucks his dick hard. All the latest videos are seen in a simple grid below the banner. Alongside to the right, you'll find the top stars featured not only in BigBootyTGirls but in the entire network too. Below the latest videos on this site, you can also find the top videos from the network.
Girls and Videos
The tranny sluts featured on BigBootyTGirls are the most unique ones you will find, and totally perfect in all respects too. They come from Brazil and Columbia, and as such, these Latinas are among the most beautiful tranny bitches in the world. A brief description of their bodies can do wonders for a review like this. You will appreciate the sexiness that these bitches bring to this site.
Whether you are watching Lexi Beth, or Bruna Butterfly, Giana Becker or Isabelle Ferreira, you will realize that these bitches are the rarest chicks with dicks you'll find in the world. It is not always that you get to watch a chick with a dick. Many of these sluts don't even reveal that they have cocks, and go about doing their job as a normal female. But the fun begins when they strip completely to show off their horny cocks to the entire world.
Tranny sluts like these can put both men and women to shame, with their awesome birthday suits. Any female will feel shy to show off her breasts when she sees these tranny cunts naked. The trannies have exquisitely shaped and sculpted breasts, and nipples that are so lively, you will never mind sucking them in full public view. The cocks can get both guys and girls drooling, and can make men feel inferior too. The tranny bitches can fuck men, women and other trannies alike, and this versatility makes them the most perfect pornstar.
The booties that these bitches bring to the table have no match, and the tight assholes are perfect for insane ass fucking. These sluts shake their amazing booties only to attract men's attention and get their asses invaded for the benefit of the three – the hunk, the tranny and you.
Conclusion
BigBootyTGirls is the best porn site to enjoy kinky tranny sex, and comes at a very affordable fee. At the time of writing this review the site had undergone some updates, and new subscription fees have been implemented. Currently, there are three payment options ranging from a monthly recurring plan, a 30-day non-recurring plan and a 90-day non-recurring plan. The 90-day non-recurring plan offers you a whopping 75% discount over the monthly recurring plan. When this site is so affordable, do you need to go anywhere else to satisfy your fetish for tranny porn? Probably not. So, join now and enjoy free access to all sites in the Trans500 network.
or check some more about BigBootyTgirls on other good review sites!