BarelyLegal
BarelyLegal Review
Hardly Missable
BarelyLegal offers one of the best porn memberships and is one of the most famous adult pay sites for adorable models in xxx videos. The title explains it all, this website is dedicated to fresh girls getting wild for the camera. They're hot, horny and have no inhibitions. Barelylegal is officially brought to you by the Hustler Network, courtesy of Mr Larry Flint. So with that being said, you already know what type of quality you should expect. BarelyLegal offers a wide range of beautiful young-looking models, it's hard to tell how old they are but they're all 18+ of course. Some of them are well known pornstars such as Ivy Winters, Bree Daniels, Lily Labeau or even Teagan Summers. There is nothing not to love about this porn website, they have hot inexperienced models, they offer exclusive contents, large selection of hardcore videos and pictures, unlimited downloads…
On this site quality and quantity goes hand in hand, you can't have one without the other. In my opinion BarelyLegal is one of the best porn site there is out there. If you can't get enough of seeing hot green girls ready to do it all for the pleasure of your eyes, then your journey should end here without a doubt.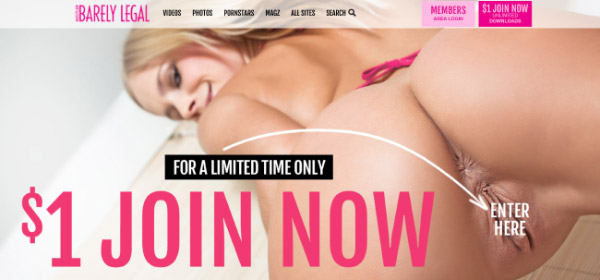 Porn Membership Fees & $1 Porn Trial
Since BarelyLegal is a pay site you have to register/create an account to proceed and get access to all the good stuff. Here is a list of the price for the packages they are currently offering:
Keep in mind that when you sign up with this web, you are getting access to the entire Hustler Network and its 20+ sites. It's a really good value for all the 100% exclusive content. There are different payment methods and they are now accepting giftcards from other companies like Starbucks or even Best Buy.
So why join BarelyLegal?
Since BarelyLegal is part of the Larry Flint group, you ought to anticipate a huge selection of porn DVD's and pictures (9000+ videos and 100000+ pictures), all of them in pristine HD quality or high resolution. Each DVD is separated into scenes that you can stream online on your favorite device. With all that, you also get unlimited downloads of your favorite movies and/or pictures. The website also have a mobile version. And it gets better, on top of the spectacular quality and amazing quantity, they have daily updates, that means new scenes every single day. There is no time to get bored here, and if for some "odd" reason you do, then you can still explore the rest of the Hustler Network and its 20+ sites. You'll have access to websites like Hustler Parodies, Hustler18 and Muchas Latinas. So you see they cover pretty much everything, they have a little everything for everybody. There is also a mobile version for the entire Hustler Network, called Hustler Mobile, so you can still watch your favorites videos and/or pictures when you're on the go.
Extra Perks
BarelyLegal already offers a ton of selections, and since you'll have access to the Hustler Network you can triple or even quadruple that amount. Yes, that is a lot, and it doesn't stop there. They still have more to offer!!! In addition to each DVD's you will get exclusive "Behind the scenes" videos. You can also browse through their library, you will have unlimited access to their Magazine collection. You can simply read the review online or simply go to the picture gallery section and download your favorite ones. The site also features the "Hustler Store", great adult store by the way, their prices are affordable and they have a little bit of everything, from toys to DVD's to Lingerie. You can also join the "Hustler Online Dating Community" by joining the HustlerHookups site, I believe you have to purchase a membership as well. Then last, but not least, they are advertising their live webcam shows Hustlerhoneys.com. The rates are a little cheaper than most live cam show sites (ie. CamCrush.com).
Conclusion
This site is a must see, I guarantee you won't be disappointed because, first of all their content is 100% exclusive, everything is downloadable and in pristine HD quality (or High resolution for pictures), they offer daily updates, you can access it on your mobile and let's not forget about the girls, they're sexy, fresh and horny. Each model is hotter than the next one and it applies to the scenes as well. You get an awesome deal for the price, you can access the entire Hustler Network, which is 20+ sites. Trust me, everything about BarelyLegal is a total jaw dropping experience. They will have you keep coming back for more, so be careful you might get easily addicted.
Visit BarelyLegal