4KDesire
4KDesire Review
Overview
There are two very hot technical developments in the online porn industry nowadays: one is the 4K resolution, and the other is the virtual reality. Since the latter is still under development, the 4K Ultra-HD videos are what makes the porn much better for all, because it doesn't require the viewers to get additional devices.
On the 4KDesire website, you can access a growing collection of Ultra-HD videos, and by the time you finish watching them, you will crave for more. Naturally, it's not just due to the great quality, but the sex in this site's scenes is great too. We have seen many porn sites rising like comets and those companies who get the chance to shoot Ultra-HD videos are truly aiming for the top spots of this great industry. 4KDesire has been launched last year and, according to the dates of the scenes, they are still updating with newer and hotter videos, seemingly on a monthly basis.
When it comes to new porn sites, the first thing that comes into mind is the matter of quantity – quality isn't a question as it's real 4K HD. Fortunately, the 4KDesire has a growing collection, it's standing at a circa 25 scenes, and grows. You will find here many contents, but there is more for you to watch. If you don't mind to browse through more than 3,000 porn videos, then you are going to be satisfied with what you get. We can't tell you for sure what's the actual name of this network, but we know that it's powered by the PimpRoll. We have found out that it's either the MegaSitePass or the WankZ network, but it doesn't really matter as long as you gain access to all those hot scenes. There are about 50+ series (sites) videos at your disposal, including titles like the BigTitsLikeBigDicks, WankZ, JawDroppingAsses, or the SchoolgirlInternal. As you can see from these titles, the videos you get as a bonus are all covering hardcore sex, strengthened by some fetishist elements. Most of the porn here is exclusive, the 4KDesire certainly offers unique porn, while the rest of the collection is company-exclusive, which means you can find them on other sites of this company. Apart from the bonus videos, live shows, discounts and dating are also offered.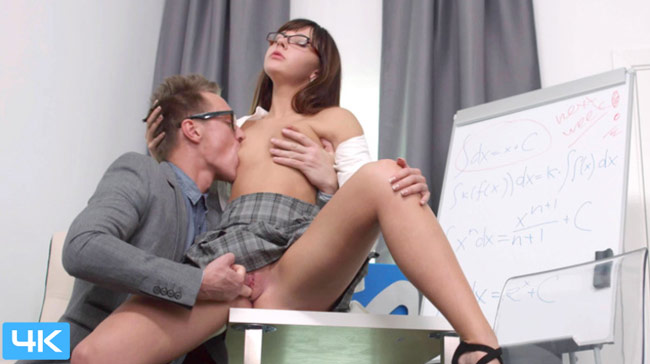 Design and Features
The bright colour theme of the home page of the 4KDesire is reassuring and makes you feel like you should when you are watching porn and this isn't a bad thing, but an appreciation of beauty and desire. Basically, the page is built like a tube site, with a larger thumbnail, and several gifs listed. When you click on the one you get to a page, but there are no preview options, as you have to join in to access the real deal. When you log in, you are going to see that it's a hub members' area, where you can access not just this site's content, but all there is in the network. The uppermost area features the menu where you can find a list of the network sites: Wankz, LethalPass, and AdultDVDSpot. It may seem like you have to upgrade your membership with the LethalPass to access its sites, but in practice, you are going to access the same content as the WankZ. The 4KDesire is the flagship of the WankZ and the other sites under the same mark are all yours to enjoy. From the AdultDVDSpot, you can access DVD-scenes in a streaming-only format. The site's features are the usual: a keyword-based (or names) search, easy access to the sites and the bonuses, along with a categories selection page.
There isn't much to tell about the videos: they are in 4K and that's all you have to know. The UHD scenes are downloadable in MP4 format, and there are also other quality settings: 1080p, 720p, 480p, and 360p. Just choose what suits you the best. Those who are against downloading have to make a compromise because the site grants "only" 1080p resolution for in-browser viewing. As you might expect, some neat photos are available too, coming in high resolution, packed into one archive per set for easy download.
Girls and Videos
The girls and the guys are mostly of European origin, and we believe that the scenes were shot in Europe – well, in Russia to be precise, because we saw these guys and chicks in the most recent Russian and Eastern-European porn. You can find here fresh girls and fresh sex who are natural beauties, and their amazing shapes look great in 4K. As far as we could tell, the hotties are professionals, and they don't mind if they get their fine ass fucked either, so you can expect here some truly juicy action. On the 4KDesire, the videos are staged, and they don't seem to cover any kind of storyline. It's just about having hard sex in a well-lit room and show all aspects of desire. What you might find strange is the excessive amount of kissing in the videos, which makes them look more passionate. Since it is European porn, you should expect some hot anal penetration too, as these girls seem to be always eager for it. Apart from the long and exhausting blowjobs and the anal sex, there are no additional heavy niches covered.
Conclusion
The 4KDesire is one of those sites which we will visit frequently to see if they have any hard and high-resolution porn for our entertainment. If they do, then it's for the best, which also means that they aim for the top spots. Though the videos come slowly, the numbers seem to increase, and the flicks here will make you satisfied. In case you can lower your expectations to Full-HD and HD porn, the network sites ought to keep you in an enlightened and excited mood until a new 4K video comes out. Easy navigation, high resolution, and great sex are the main benefactors why we recommend this site.
or check some more about 4KDesire on other good review sites!